---
The 2014 UN Climate Summit has finally concluded after more than two weeks of talks in Lima, Peru, with basically more of the same from the last few years, all pointing to a dramatic conclave next year in Paris where a final deal is supposed to be hammered out, while the issue of money transfers continues to loom large.
Challenges getting agreement on another promise to make a promise caused the session to extend more than two days passed its initial schedule, but the final agreement was signed in the end by 194 nations.
The BBC reported that "Environmental groups said the deal was an ineffectual compromise, but the EU said it was a step towards achieving a global climate deal next year in Paris."
The Green Supply Chain Says:

This research found that firms in the high sustainability group significantly outperformed firms in the low sustainability group in terms of both stock market performance and accounting measures

.

What Do You Say?
The plan for a climactic (pun intended) agreement at the 2015 summit was developed several years ago, and seems to have been simply reaffirmed in Lima. This latest agreement calls for:

• An "ambitious agreement" in 2015 that reflects "differentiated responsibilities and respective capabilities" of each nation - and important point for developing countries looking for a pass on CO2 emissions or big dollars from developing countries to help with the energy transitions
• Developed countries to provide financial support to "vulnerable" developing nations
• National pledges for CO2 emissions to be submitted by the first quarter of 2015 by those states "ready to do so," which as it sounds means very little
• Countries to set targets that go beyond their "current undertaking"
• The UN climate change body to report back on the national pledges in November 2015 just before the Paris summit

Many environmental groups were not pleased with the outcome.
"The Lima agreement is another acknowledgement of international reality," said Dr. Benny Peiser, director of the Global Warming Policy Forum. "The deal is further proof, if any was needed, that the developing world will not agree to any legally binding caps, never mind reductions of their CO2 emissions."

Sam Smith, chief of climate policy for the environmental group WWF, said: "The text went from weak to weaker to weakest and it's very weak indeed."
However, others were more optimistic about the outcome.

"A global climate agreement is now within reach," said Jennifer Morgan, director of the climate program at the World Resources Institute. "While more hard work remains, negotiators found common ground on the most pressing issues."
It seems clear that the direction this is headed is for the Paris agreement to result in voluntary CO2 reduction commitments by individual countries, rather than some sort of legally binding accord, as the Kyoto Protocol delivered in theory when agreed to be some nations (mostly European) in the 1990s, although whether that was true in practice is certainly open to question.

For the US, a non-legally binding agreement would mean that it would not require approval by the US Senate, as is the case for actual treaties, which makes it much more likely that the US will sign on.
This approach also means that there is no overarching set of targets that at least in theory would deliver the emissions targets the UN has been calling for on a global basis, and that reaching the targets pledged by different countries next year will of course be dependent on legislation and/or policy decisions within each country, across different administrations over time, in good economic times and bad, etc.
As the Christian Science Monitor noted this week, "At issue is how deeply they [each country] will allow others to delve into the details to gauge the adequacy of a country's contribution [to reduction] as well as the combined effect of all contributions on greenhouse gas emissions."

It's All about the Money

Only modestly reported on is the huge issue of money transfer from developed to developing countries to supposedly help them move to more sustainable energy sources, and/or mitigate the impact of various damage due to rising temperatures.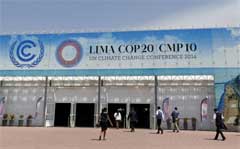 Developed countries earlier a couple of years ago committed to provide an amazing $100 billion annually to such a fund starting in 2020, though how that commitment will be delivered in practice and the sum will be divided up between countries remains to be seen.
At the 2014 summit in Warsaw, some representatives from developing countries stormed out of meetings over the issue, with some calling for much more money as a sort of "reparations" payment for environmental damage their countries had or would experience due to countries like the US using fossil fuels for more than a century.
Adding to the controversy, China - now said to be the world's largest economy by the World Bank as it overtakes the US in 2014 by one measure - has been among those clamoring for payments. The idea of making payments to China, which has taken so many jobs away from domestic economies, may not go over well in the US, the UK, Germany, etc.
A month ago, president Obama pledge the US would contribute some $3 billion to a current fund meant as a sort of bridge to the $100 billion due in 2020. That fund currently has pledges of some $10 billion - a far cry from $100 billion even if the US actually and other nations actually send the pledged amounts.
"If they think they are going to get all that money for the fund, they're mistaken," a senior aide to Sen. James Inhofe, R-Okla., told the media this week. "You're going to see us being more aggressive about not sending more money to the U.N. and elsewhere for climate change."
Meanwhile, Australian officials said they were not going to pay into the fund at all, but rather give direct aid to countries where appropriate, calling the fund a "Green blob" middleman. The country also called on major economies such as China to also give such aid, not be the recipient of it.

But in the end, all was mostly for show in Lima. The real action will come next year in Paris.

What is your take in the 2014 UN Climate Summit? Let us know your thoughts at the Feedback button below.


TheGreenSupplyChain.com is now Twittering! Follow us at www.twitter.com/greenscm