---
The Green Supply
Chain Says:

The cost today per watt of energy capacity for solar panels has fallen to just 84 cents. That is down dramatically from even just a few years ago.




Click Here to Send Us Your Comments
Despite years of very slow progress, deployment of solar panels systems by home owners and especially businesses have soared in 2012, but the predicted benefits to US manufacturing have not be realized, as pricing is in the toilet globally.

Estimates are that some 2500 megawatts of solar panel energy production capacity will be installed in the US by year's end. That's as much as was deployed in the full decade of 2001 to 2010, and by one measure is equal to the electricity production capacity of two nuclear power plants.
Others note, however, that the 2500 megawatt capacity number is only at peak production times in full sunshine. More cloudy days and obviously night time produces lower levels or no electricity, leading some to say the effective capacity is more like 300-500 megawatts.
Regardless, everyone agrees there has been a dramatic surge in solar panel deployment in the US, driven by two factors: (1) increasing effectiveness of newer solar panels in terms of energy produced for a given amount of sunlight; (2) lower and lower prices for the panels themselves.
Combined with a wide array of tax benefits, and the ROI for going solar is increasingly attractive.
The cost today per watt of energy capacity for solar panels has fallen to just 84 cents. That is down dramatically from even just a few years ago, and compares to the $50.00 or so per watt seen in constant dollars in the late 1970s.

Powering distribution centers with solar power has been an increasingly popular supply chain related application, with companies such as Procter & Gamble and Toys R Us among the growing number of US companies using solar to power DCs. (See Toys R Us to Use Giant Solar Panel System to Power New Jersey Distribution Center).
According to a report from the Solar Energy Industries Association last week, utility-scale solar projects (some of that the results of state-level requirements) and installations at big-box retailers, warehouses, and similar facilities each account for about 42% of installations since the beginning of last year. Solar for homes made up the remaining 16%.

China Dominates Production – but Industry is Still in Trouble There

While many may view the surge in solar panel deployment as good news for energy independence and greenhouse gas reduction versus fossil fuels, the once expected jobs boom in the US simply isn't happening.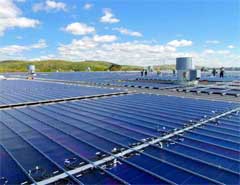 50% of the world's solar panels were made in China in 2011, as it exported some $36 billion worth last year, and it has likely increased that share in 2012. In 2008, China had just a 20% share. Meanwhile, the US, which once dominated the production of solar panels, had a share of a measly 3% in 2011, down from a just slightly less measly 7% in 2008.

Chinese subsidies have played a key role in that manufacturing dominance. Several years ago, China declared solar panels as a strategic industry for development, and the dollars to Chinese manufacturers started to flow. Earlier this month, the European Union said it will investigate whether Chinese firms are selling solar panels at unfairly low prices in Europe, a move that could lead to steep tariffs aimed at slowing the flood of Chinese imports that are ravaging Europe's solar-panel industry as they are in the US.
Estimates are that costs for solar panels have fallen about 20% over the past 12 months alone, with no bottom in sight.

Ironically, the Chinese solar push and heavy subsidies, often in the form of very low cost loans or export credits, have led to a capacity glut and rapidly falling prices for the panels. As a result, manufacturers there are having large financial woes even as the number of units sold and Chinese market share grow rapidly. There are simply too many Chinese solar panel producers for the global market.

For example, China's Suntech, the world's largest solar panel manufacturer, recently announced that it would cut 1,500 jobs in China to reduce its solar-cell capacity to 1.8 gigawatts, down 2.4 gigawatts in 2011.That move is part its plan to cut operating costs 20% this year to react to falling market prices.
One way to consider this scenario: cheap Chinese solar panels are enabling many more business in the US and Europe to cost justify solar panel deployment, and creating lots of jobs for technicians and installers as Chinese manufactures lose money.

Is China unfairly subsidizing its solar panel industry? Is this a good or bad deal for the US? Let us know your thoughts at the Feedback below.