---
The latest annual supply chain report from the UK's Carbon Disclosure Project (CD) repeats the same theme as most recent years, finding some progress in the reduction of carbon emissions in the supply chain, but that the progress towards that goal is too slow and that not nearly enough companies are taking the sort of actions needed to accelerate declines in CO2.

The Green Supply Chain Says:

While some US companies are said to consider potential CO2 costs in their analysis today, this is termed a "shadow cost" because it is not yet real, only used to sort of illustrate a "what if" scenario

What Do You Say?

Click Here to Send Us Your Comments

The CDP surveys the suppliers of its 75 member companies, primarily large, multi-national firms across the globe, ranging from Dell and Coca-Cola to L'Oreal and Toyoto. There is a detailed survey for larger suppliers, and a more abbreviate one for smaller supplier firms.
For this 2016 report, about 4000 completed surveys were returned, up from about 3400 the year before. Still, that was only about half of the companies that were sent surveys.
From a big picture perspective, the report says that large companies "must clearly and loudly communicate that low-carbon technologies and energy efficiency" are expected from their supply bases.

And that isn't happening fast enough for the CDP. It calculates that only about half of the suppliers that report on their climate impacts are taking active steps to manage the associated risks linked with climate change - and probably an even smaller percentage among non-respondents are doing so.
"As a result, emissions are not reducing at the rate required to meet the Paris [2015 UN Climate Summit] goals, nor are suppliers building the resilience they need to deal with the climate impacts they will inevitably face," the report says.
Further, it calls for large companies to "provide financial incentives for buyers and set supplier engagement targets - both of which correlate with greater supplier management implementation and emissions reductions," and that more supplier need to integrate climate issues into business strategy and establishment of emissions reduction targets.
With that said, here are some highlights from the 2016 survey data. We'll note that unfortunately the report often does not compare this year's results to the 2015 data, so it is hard to see trends.
38% of suppliers say regulatory risks when it comes to CO2 emissions are medium or high - perhaps lower than might be expected. That compares to 36% which don't really see any such risks, and another 11% who aren't quite sure. 15% of supplier companies see a low level of regulatory risk.
46% of suppliers have concerns about the physical risks of climate change to their business, including sea level rise, change in precipitation or temperatures, and/or the occurrence of tropical cyclones.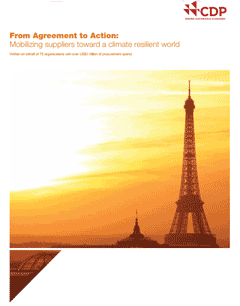 34% of suppliers say their CO2 emissions are decreasing, but 29% say they are increasing, though why that is was not explored. 4% said there was no change in emissions, while 33% don't have a way to evaluate their emissions levels.
53% of suppliers have board-level responsibility for climate change; 46% provide incentives to individuals for the management of climate change issues; 63% integrate climate change into their business strategy; 45% have an active emissions reduction target; and 55% have emissions reduction initiatives.

The report quotes CDP supply chain program member Sky UK as saying that "With the new global climate agreement signed in Paris, we would like to see our suppliers set targets that match the ambition out there."
There are geographic differences. While 54% of suppliers headquartered in Europe have specific CO2 reduction targets, that number falls to 34% in the US. Perhaps surprisingly, 51% of Chinese suppliers claim having such targets, a number that we'll just say is surprising.
The report concludes with a call to action, not surprisingly.
"Unfortunately, too few organizations are engaging their suppliers. Of the 4,005 companies that disclosed to the program in 2015, roughly a quarter reported engaging with their suppliers," the report noted. "We know that supply chain emissions comprise twice the emissions of a company's own operations on average, which means that direct supply chain engagement is critical for reducing emissions. It is time for more companies to follow suit and use their purchasing power to encourage positive climate action in their supply chain."
The full report can be found here: 2016 CDP Supply Chain Report

What is your opinion of CDP and this report? Any of the numbers surprising to you? Let us know your thoughts at the Feedback button below.