---
The Green Supply
Chain Says:

The report says that in 2012, Maersk already reached its 2020 target of reducing CO2 emissions by 25% per container (TEU) from its benchmark 2007 levels – eight years ahead of time.




Click Here to Send Us Your Comments
The AP Moller-Maersk Group is a giant $60 billion company best known in the supply chain for it Maersk Line unit – the world's largest ocean container shipping carier, as well as its APM terminals division and related logistics businesses.
But it also has major oil and gas exploration businesses, and even a 1300-store retail group (that, we confess, was news to us).
The company has just released its 2012 sustainability report, and TheGreenSupplyChain.com wanted to highlight key details for two reasons: (1) when we decide to review such reports, we generally select those from regular companies such as Procter & Gamble, Walmart, Toyota, etc., and we thought it would be good to focus on a carrier for a change; and (2) especially so because container ships are reported to contribute more than 3-4% of global greenhouse emissions, with the sector often targeted by environmentalists (see European Union Says it Is Considering Carbon Tax on Container and Bulk Ships Into and Out of Ports.)
In this review of the Moller-Maersk report, we will focus on areas related to global logistics.
A couple of interesting notes first, however. Overall, Moller–Maersk interestingly reported there were 17 fatalities related to company operations in 2012, up from 13 in 2011 and 12 in 2010. We do not remember ever seeing this metric ever reported in other such reports.

The company also says it had trained 483 company leaders in its "labor principles" in 2012, versus 93 in 2011.

Finally, from an overall corporate perspective, Moller–Maersk says it is up to 1431 suppliers that are now registered as part of its "responsible procurement" program, out of 1985 invited to participate. At the end of 2012, Maersk had assessed 185 of those suppliers as to the practices and processes, with promises for many more.

We were glad to see the company recognize that there is some inherent tension between the path to badly needed economic growth and sustainability and climate change concerns.

"The global challenge is to increase economic well-being for a growing population without incurring corresponding increases in environmental pressure, i.e., decoupling environmental degradation and economic growth," the report notes.
On the ocean container shipping front, Maersk has been at the forefront of giant "megaships" such as the new "Triple E's" scheduled to be delivered this summer that will have capacity of more than 18,000 TEUs. Those large ships lower the level of CO2 per container.
However, Maersk notes, some parts of the world do not yet have the port capacity, draft or equipment to take advantage of the efficiencies stemming from the use of the largest container ships.
Maersk says its 16 SAMMAX ships were specifically designed to overcome these challenges in Brazilian ports. For example, on Brazil's busiest port in Santos, Sao Paolo, the vessels are now loading and discharging 50% more containers per call than the port's average based on the ship's design.

The Maersk report in part is refreshingly honest about the trade-offs and challenges. The 2012 report, for example, notes that "Maersk Line alone accounts for approximately 0.1% of the world's CO2 emissions, emitting 318 million tonnes of CO in 2012," adding that Maersk Line generated 31.8 million tonnes of CO2 emissions in the past year.
Maersk Line Makes Major CO2 Progress
Maersk Line has clearly made major progress in reducing its absolute levels of CO2 emissions.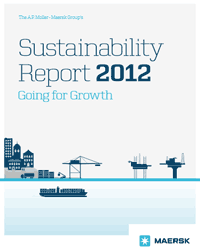 The report says that in 2012, Maersk already reached its 2020 target of reducing CO2 emissions by 25% per container (TEU) from its benchmark 2007 levels – eight years ahead of time.

To keep momentum, Maersk Line has raised the target to a 40% reduction in C02 per container (TEU) by 2020. As a result of this energy efficiency, the company says, Maersk Line is now "significantly more cost competitive."
Some of this, of course, comes from Maersk's pioneering adoption of so-called "slow steaming" techniques, in which container ships are operated at about half speed versus traditional rates. That means global containers move more slowly, but at lower operating costs and fuel usage and emissions.
Despite the added transit times, Maersk says that "in 2012 we pursued new efficiency levels by optimizing our route network for wider use of slow steaming. This included taking out ports from journeys, higher efficiency in ports allowing for more time at sea, improved communication between ports and ships to allow for lower speed in case of port delays and renegotiation of arrival times for established journeys."
Rather than being a temporary phenomenon based on a major drop in global trade volumes in some lanes, Maersk appears to believe this is simply the path forward.
The company notes, for example, that it is "Replacing many ships' bows with a shape better suited to slow steaming," a move which can reduce fuel consumption 1-2% annually.

The increased use of slow steaming is the main contributor to the positive results in reduced CO2 emissions, which were down 11% per TEU in 2012.The average speed ship speed was reduced by 2 knots over the course of the year, the report says.
The full report has a lot more information, but you get the idea.
The full report is available here: A.P. Moller-Maersk Group's Sustainability Report 2012

Any reaction to the Maersk 2012 Sustainability Report? Let us know your thoughts at the Feedback button below.