---
Global consumer products giant Unilever last year reached its challenging goal of producing zero waste at its 241 factories in 67 countries across the globe.
In total, Unilever chief supply chain officer Pier Luigi Sigismond says that the company will save about 200 million euros annually from the effort.
The Green Supply Chain Says:
Another key in developing economies is to make multi-year commitments to recylers and other service providers so they have to confidence to make needed investments.

What Do You Say?

Click Here to Send Us Your Comments

Now, Sigismond says, "In developed economies there is no excuse any more not to do this. If a company is not doing this, you start to think it is simply because they don't care."
Unilever was able to achieve the impressive achievement by focusing on the "four R's" of zero waste: reducing waste at the source, then reusing, recovering or recycling.
Sigismond says there is enough infrastructure now in most developed economies that getting to zero waste at manufacturing facilities is not all that difficult and will result in cost savings. In developing economies, the challenge is greater.
"There will be some regions where it increases costs initially, but if you look at it in its entirety, globally going zero waste saves money," Sigismond recently said. "We saved €200 million, but in some countries where you need new infrastructure it can be more expensive at first."
That said, Sigismond is passionate about the subject on a global basis.
"Don't buy the excuse that it can't be done in countries where there is poor infrastructure - we have gone zero waste in Ivory Coast, in India," he says. "We worked with a lot of family-driven businesses. We asked to work with them and help deliver the infrastructure to ensure our materials could be recycled or re-used."
In developed economies, moving towards zero waste will usually uncover a lot of current process inefficiencies that will save a company money when improved, Sigismond says. He added that Unilever saved money as it matured its approach by moving from use of some 40 different recylers in the UK to just a single provider, gainng economies of scale.
As examples of success in developing economies, Sigismond cites a program in the Ivory Coast in which waste wood is turned into low cost building materials, while in India, organic waste is being composted and shared with the local community to grow vegetables.
Another key in developing economies is to make multi-year commitments to recylers and other service providers so they have to confidence to make needed investments, Sigismond says.
"By giving some of these family-run businesses a five-year commitment that if they invest we would support them they could raise the capital themselves," he says. "It means they have the certainty to put some capital in."
Moving Beyond Its Own Factories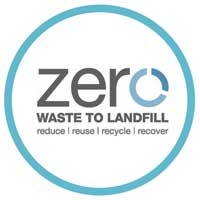 Now that it has reached zero waste status across its global manufacturing footprint, Unilever is looking to reach the same goal for all its facilities, such as office buildings, and even in its extended supply chain. Unilever hopes to achieve the first goal by the end of 2015, though there are some real challenges in many of the countries Unilever exports to.
"I can't guarantee we will get to 100% of the countries, which is 190 countries, by the end of the year - but no one has said it is impossible," Sigismond says. "It might be the end of 2015, it might be the first quarter of 2016 but we will get there."
In terms of its extended supply chain, Unilever will host a major meeting later this year with leading suppliers to share insights it has gained relative to reducing waste, and the company will strongly encourage suppliers to tackle the waste they generate and send to landfills.
And as with other sustainability-related programs, Unilever may use waste management as a factor in making supplier decisions before long.
"We will invite our suppliers to do the same thing and we will connect them to our service providers where they need assistance," Sigismond says. "If they say No, we are not in a position to drop them. But this will become a qualifier for working with us and I can see it becoming a condition. They would have to explain why they are not doing it. It is part of the framework of responsible practice."

Unilever is also already working on the consumer side of the zero waste mindset, though Sigismond admits this will be a tough challenge in many regions.
"Our focus now is on becoming a zero waste company and working towards a zero waste value chain by encouraging our suppliers and customers to join us on this mission," Sigismond says

Do you agree there is no reason not to pursue zero waste programs now? What are the barriers, if any? Let us know your thoughts at the Feedback button below.


TheGreenSupplyChain.com is now Twittering! Follow us at www.twitter.com/greenscm