---
The Green Supply
Chain Says:

Being green and especially reducing energy and water usage remained high priorities on most corporate strategy lists, even if largely driven by practical cost cutting objectives.

Click Here to Send Us Your Comments
It was an interesting year in Green Supply Chain news and developments, though not always in the direction that Green SMC proponents would have liked to seen.
Progress on greenhouse gas emissions went sideways at best, culminating at December's UN Climate Summit in Durban, South Africa which barely eked out a weak accord that basically was an agreement to reach an agreement by 2015, and then giving countries another five years to get the treaties approved in their own countries.

Canada and Japan dropped out of the Kyoto Protocol, with a group of European countries agreeing to maintain the structure for another five years.
Another set of "climate gate" emails were released in November, which again showed efforts by some scientists to conceal underlying climate data and viewing their efforts as a cause, not a scientific inquiry.

Several surveys shows public concern about global warming and interest in "green" products to be waning.
However, California made big news when it announced in October final rules for the state's own Cap and Trade program, the first of its kind in the US, with the ambitious target of reducing carbon emissions in the state to 1990 levels by 2020.
In the first phase, some 650 manufacturing and utility sites will be included in the program - any site emitting more than 25,000 metric tons of carbon per year. Potentially more impactful, in 2015 fuel distributors (refineries, fuel wholesales and such) will be brought into the program. That means every business and consumer will feel the effects.
This could be a major inflection point in the US if other states decide to emulate the California approach - or cause more economic hardship and lost business there if California remains alone and consumers and business leave the state over rising costs due to the program.
The Green industry also took a hit when solar panel company Solyndra went belly up in August, despite some $500 billion in US government load guarantees amid signs the government knew the company was in trouble and that Solyndra backers benefited from Washington connections. The entire US solar industry is said to be teetering currently, as the cost dynamics aren't right for solar energy, and China is heavily subsidizing its producers.
There were also several reports saying the Green energy jobs simply weren't emerging in the US despite significant government spending to create them. A study by the middle of the road Brookings Institution this summer, for example, found total clean-technology jobs had actually decreased slightly in technology hot bed Silicon Valley since 2003 - and that a number of federal and state programs had produced a paltry number of green jobs despite millions of dollars being spent. Some blamed a lack of US Cap and Trade law as responsible for the poor results.
However, being green and especially reducing energy and water usage remained high priorities on most corporate strategy lists, even if largely driven by practical cost cutting objectives.
In October, UK grocer Sainsbury's announced an aggressive "20 by 20 Sustainability Plan" with hopes of achieving 20 specific goals by 2020. Those goals include such aims as a commitment to reduce packaging by 2020 to 50% versus 2005 levels, and similar promises to reduce absolute carbon footprint by 30% by 2020 and 50% by 2030.
To reach these goals, Sainsbury's said it would become much more involved in its suppliers' supply chains practices and penalize or stop doing business with suppliers that aren't measuring up to its standards.
Retail Toys R Us announced in May it was constructing the country's largest rooftop solar panel system in North America to create electricity for an existing distribution center in Flanders, NJ. The project will use a 37,000 solar panels, and will provide over 5.38 megawatts of power, occupying an incredible 869,000 square feet of roof space.
Meanwhile, Nike, Adidas, Abercrombie & Fitch, and several other apparel retailers and brands found themselves in hot water over the summer after a series of reports from Greenpeace detailing how some of their textile providers in China were discharging a range of hazardous chemicals into the Yangtze and Pearl River deltas.
Though initially disputing the claims, most of the companies named announced changes in sourcing practices a short while later.
Meanwhile, the annual BP Statistical Review of World Energy report released in June showed little progress on the greenhouse gas front. Global energy consumption continues to rise sharply despite a slow but steady reduction by developed economies, as non-developed economies continue to grow at a rapid pace. It said that in 2010, China overtook the US in terms of total energy consumption, at about 20% share of global usage.
The report says coal consumption grew by 7.6% in 2010, its fastest global growth since 2003. Coal now accounts for 29.6% of global energy consumption, up from 25.6% 10 years ago. That was part of the factor in total global greenhouse gas emissions growing sharply in 2010.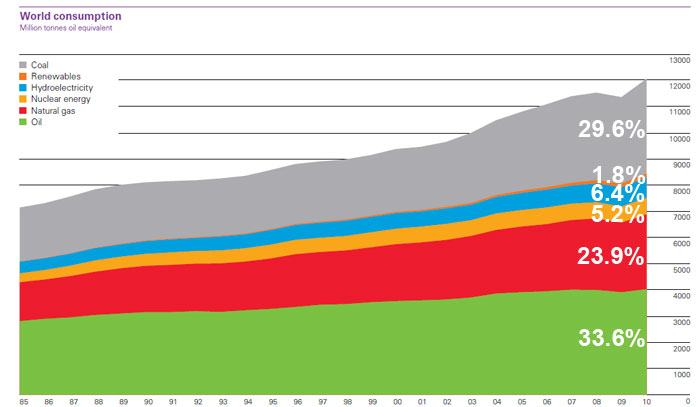 There was progress, however, in alternative energy vehicles, even as electric car sales continued to be weak and many are questioning the cost dynamics. Still, UPS ordered 100 all-electric delivery trucks for the California market after a substantial testing and development period.
Perhaps more important in the long run, the interest in natural gas powered Class 8 tractors continued to grow, with the cost delta versus traditional diesel trucks continuing to shrink (now down to just $35,000 or so, which delivers a short payback period), and pending legislation in Congress (similar to the original T. Boone Pickens plan) that would offer subsidies to trucking companies to make up the difference. This could be a game-changer.
Net-net: The global warming movement took its share of hits in 2011, and overall consumer interest and some key sustainability themes (solar power, green job potential, electric cars) also didn't have great years, but the private market and the interest of companies to reduce their own costs made for good progress during the year.
What are your thoughts on our Green year in review? What key stories or themes did we miss? Let us know your thoughts at the Feedback button below.

TheGreenSupplyChain.com is now Twittering! Follow us at www.twitter.com/greenscm