---
The Green Supply
Chain Says:

Coca-Cola, in fact, has worked with an environmental group called World Resources Institute and others to develop a free web tool called Aqueduct, which allows companies to interactively look at water resources and risk in numerous regions across the globe.

Click Here to Send Us Your Comments
For some time now, many have been predicting that "water will be the next oil," in terms of scarcity, cost and concern relative to manufacturing and supply chain operations.
Now, a leading investor is saying major corporations need to more specifically account for their water risks, and be much more proactive in terms of water usage and reduction strategies.
Jonas Kron is an investment advisor at Trillium Asset Management, a nearly $1 billion mutual fund that focuses on sustainability-related investments, who told Bloomberg this week that he thinks the world's dwindling supply of fresh water may soon impact results at the companies the fund invests in.
Kron specifically singled out food and beverage maker JM Smucker (jellies, Folger's Coffee, etc.), which he says, for example, hasn't demonstrated it is ready for the market changes that are sure to come as climate change reduces the size of the world's coffee growing area.

Smucker executives seem unaware they need to factor water risk into their financial projections, Kron told Bloomberg. (SCDigest will note that activist shareholders often have hidden agendas, so these statements need to be taken in that context - this is one man's perhaps biased opinion.)
He and other investors are "seeking to have the company address the risks in its supply chain," Kron says.

Environmental consultant Brooke Barton of Boston-based Ceres, told Bloomberg that "Water is something that should be keeping CEOs up at night." She noted that the world's population is expected to grow to 10 billion by the end of the century from 7 billion today, with the need for fresh water increasing twice as fast as that as a larger middle class emerges in the developing world. She says the current competition for scarce water resources is unprecedented.
Of course, dozens of companies, including corporate giants such as Kraft and Coca-Cola, have taken significant steps to reduce their water usage, especially in countries like India where issues related to water availability are severe.
Coca-Cola, in fact, has worked with an environmental group called World Resources Institute, plus Bloomberg, Dow Chemical, GE, Talisman Energy, and Goldman Sach's, to develop a free web tool called Aqueduct, which allows companies to interactively look at water resources and risk in numerous regions across the globe. The resource can be found here: Aqueduct Water Resource Analysis Tool.
New Interactive Aqueduct Tool Helps Companies Better Understand
Potential Water Resources and Risks in their Supply Chains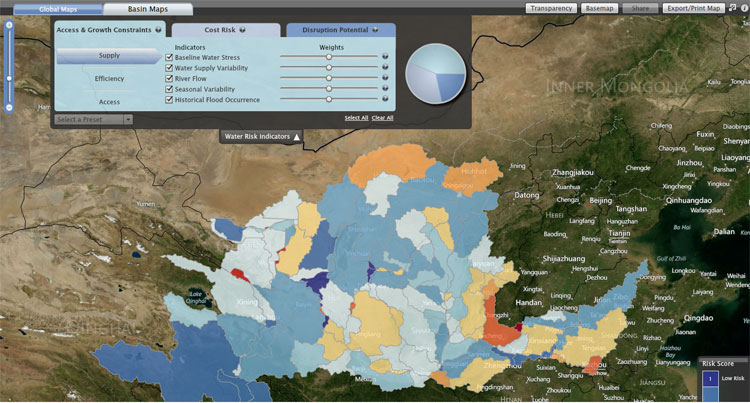 Coca-Cola Inc. has been collecting data on water for years, and its models can predict water stress in some basins through the year 2095, models which have been incorporated into the Aqueduct tool.
The site expects to add more detail to the maps throughout 2012, with comprehensive data from four river basins: China's Yellow River, Australia's Murray-Darling; the Colorado in the U.S. and the Orange-Senqu in Southern Africa coming soon.
"It's not just running out of the water you need to run your plant," Rob Kimball, Program Coordinator for WRI's Aqueduct program, told Bloomberg. "It can show up in your supply chain - no water for crops or for shipping your products or for the power plants you rely on. If you're not ahead of this, you are going to get surprised."
As a cautionary note, a Coke bottling plant in India's Kerala state was shut down in 2004 by local authorities for using too much water. Wells dug into the local aquifer were running dry, leaving farmers with no water to irrigate their crops. Coke's operations were blamed for depleting the area's water table and local elders ordered the plant shut. Though Coke convinced a court in a two-year trial that drought was to blame for the dry wells, and Coke's own water was actually drawn from a different aquifer, the bottling plant is still shut.
Is water the next oil? Have you seen or used the Aqueduct tool? What do you think? Should water issues be keeping more CEOs up at night? Let us know your thoughts at the Feedback button below.


TheGreenSupplyChain.com is now Twittering! Follow us at www.twitter.com/greenscm