---
The Green Supply
Chain Says:

Contrary to what most people believe give news reports in recent years, Happer says that since the end of the so-called Little Ice Age in the early 1800s, the level of global warming has been slight, about 0.8 degrees Celsius.

Click Here to Send Us Your Comments
What is the status of natural gas-based trucking, both in terms of engines and the fueling infrastructure need to support them?
As part of a recent broadcast of our weekly supply chain video new program, produced in partnership with CSCMP, SCDigest editor Dan Gilmore interviewed Jim Harger, Chief Marketing Officer for Clean Energy Fuels, a California-based retailer of both liquid and compressed natural gas. The company is building out a network of nat gas filling stations. Clean Energy began in 1997 as Pickens Fuel Corp., started by legendary energy investor T. Boone Pickens, who remains on the board. (To view the full interview, go here: This Week's Video Supply Chain News for April 2, 2012
Harger noted that the value proposition for use of natural gas trucks is strong and getting stronger, with the price delta for natural gas-based truck engines versus traditional diesel continuing to shrink, and the price of natural gas at historic relative lows.
Harger says it only costs about $30,000 extra to get a natural gas engine today, versus $65,000 or so just a few years ago, and $35,000 just last fall. With current natural prices very low and likely to stay that way given both the overall abundance of nat gas within the US and new drilling techniques (fracking) making available huge additional resources, the savings for natural gas is somewhere between $1.50 to $2.00 per equivalent gallon of diesel fuel.
Given that the average over the road class 8 truck consumes about 20,000 gallons of diesel per year, that makes the payback period about one year or even less when making the switch from diesel. Natural gas also produces about 30% fewer carbon emissions than diesel does.
But when shippers, carriers or others consider moving to natural gas trucks, they need to be able to "fill up" where and when needed. That is a fairly easy process for some types of companies, such as sanitation or local delivery operations, where the fleet is never far from a home base where companies such as Clean Energy and others can install nat gas filling stations.

But for many common carriers and shippers with private fleets, there is a bit of a "chicken and egg" situation, with those companies interested in natural gas trucks but only if the on the road filling infrastructure is there to support it; meanwhile, the filling operations need to demand to build the infrastructure.
Harger says Clean Energy is breaking that model a bit by using its investors' capital to build out that filling infrastructure in advance of demand, creating demand at the same time.
"Our company has raised $450 million over the last nine months," Harger said. "The majority of that is going to be spent on building America's natural gas highway," adding that Clean Energy has a partnership with Pilot/Flying J in which Clean Energy will add natural gas filling at many of the retailer's existing sites that are already serving truckers.
He says that Clean Energy will add some 70 on the road stations this year, and another 80 stations will be developed in 2013. This in most cases will allow natural gas trucks to go "coast to coast and border to border." In general, a station will eventually be available every 250-300 miles.
Clean Energy's Planned Natural Gas Highway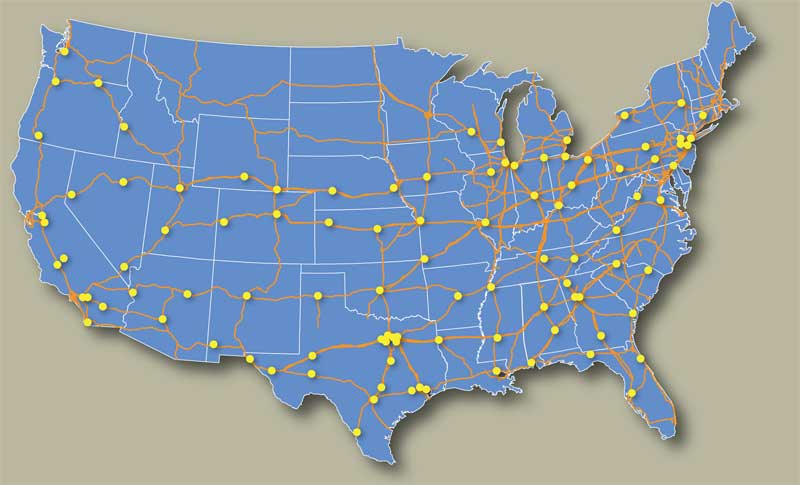 Carriers are Jumping on Board
Clean Energy recently announced a series of partnerships with carriers and 3PLs.
For example, the company recently signed an agreement with Saddle Creek to put natural gas filling stations at several dozen of the 3PLs distribution center sites.

Clean Energy also recently announced an agreement with 3PL Transplace and Sunny Delight Beverages in conjunction with Glacier Transportation for a new compressed natural gas powered truck fleet. The five-year agreement will involve transportation of products such as Sunny Delight and Fruit2O beverages to customers across the Southern California market.

Harger says Clean Energy has also signed non-disclosure agreements with over 100 shippers relative to gaining access to lane-specific data that would help the company understand where additional stations might be needed and in some cases actually agree to support a given shippers needs.

Harger said Clean Energy will be working with both carriers and shippers to build filling stations at the carrier's own terminals, or in certain high density distribution areas of the country.
Engine Manufacturers Making Great Progress
Harger says that today, there is a 9-liter natural gas engine that works well for waste management, drayage operations and other more local and lighter weight transportation, but not suitable for general over the road carriage. Cummins Westport offers a 15-liter engine that is being used by Kenworth and Peterbuilt, but carries three fuels and thus is fairly expensive.

Harger said that Cummins Westport is introducing a new 12-liter engine later this year that will be engineered into all the major truck OEM chassis, and that Navistar has committed to a similar product that will be available in 2013. Cummins is also developing a new nat gas 15-liter engine slated for 2014.
"We will have all the engine families available to operate at 80,000 pounds across any topography across the country," Harger said.
Do you believe this natural gas truck movement is really going to happen? What are your plans? Is there some fly in this ointment? Let us know your thoughts at the Feedback button below.


TheGreenSupplyChain.com is now Twittering! Follow us at www.twitter.com/greenscm