---
A couple of weeks after rival General Mills announced its own set of new environmental goals, food maker Kellogg's announced it was expanding its own sustainability program, with a focus on putting more pressure on suppliers to reduce their CO2 emissions.
The maker of cereals, PopTarts and other brands said that for the first time it will set and disclose a greenhouse gas reduction target for its entire supply chain, a goal to be accomplished by the end of 2015. It will set its targets using a science-based method consistent with the goal of keeping global temperature increases below 2 degrees Celsius.

The Green Supply Chain Says:

Rightly or wrongly, Oxfam gave Kellogg's a score of just 29% out of a possible 100%, putting it in seventh place among the 10 companies it analyzed

.

What Do You Say?

That will involve detailed reporting from its suppliers relative to CO2 emissions. Kellogg's will require all key suppliers to measure and publicly disclose their own emissions and reduction targets, which will feed into Kellogg's annual emissions disclosure to the Carbon Disclosure Project (CDP), a UK-based organization that collects carbon emissions data on behalf of companies.
"We recognize that upstream agriculture emissions are the single largest source of emissions in our value chain and will focus our efforts on achieving agricultural emissions reductions," the company said in a statement.
The approach could have a significant impact on agricultural suppliers, likely forcing many to measure their emissions accurately for the first time.

The company also said that by 2020 it will have moved to responsible sourcing of its top 10 ingredients and materials. Those top commodities include corn, wheat, rice, oats, potatoes, sugar (beets and cane), cocoa, fruits, nuts and honey. They will all be sourced to industry sustainability standards, such as those developed by Field to Market and Bonsucro. Kellogg's said the move would drive a renewed focus on continually improving water consumption, fertilizer use and greenhouse gas emissions.
The updated commitments come after Kellogg's laid out certain targets in 2008 that it hoped to reach by 2015, such as reducing energy use, greenhouse gas emissions and water use.

Kellogg is on track to meet its 2015 commitments on water use, and has twice exceeded its target for reducing the waste it sends to landfills, said Diane Holdorf, Kellogg's chief sustainability officer and vice president of environmental stewardship, health and safety. But it could be challenging to hit the goals that Kellogg's set in cutting energy use and greenhouse gas emissions, she said.
Kellogg's Progress on Various Sustainability Goals
(Measured by Metric Ton of Food Produced)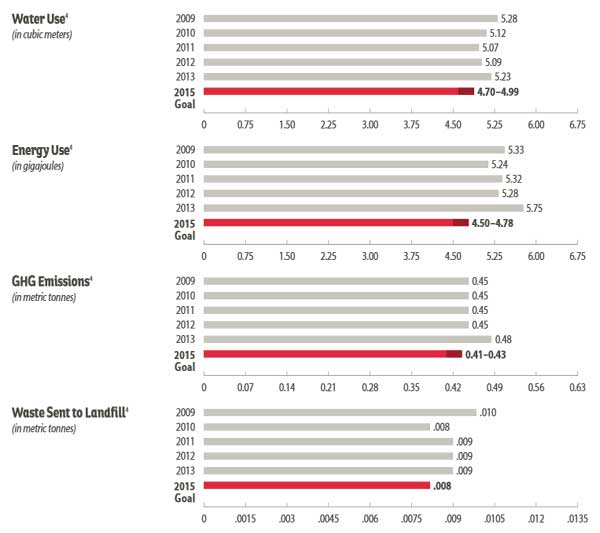 Holdorf said Kellogg's now aims to reduce its energy use, water use and greenhouse gas emissions by an additional 15% beyond its performance in 2015. The Battle Creek, Mich., company measures its output in these areas based on the amount of food it produces, meaning its os focusing on level of intensity in usage per some unit of output, not absolute levels of usage/emissions.
The new goals and initiatives may have been spurred in part of criticism from a UK outfit named Oxfam, which is primarily focused on addressing poverty across the globe, but has linked that effort with sourcing and other business practices at leading consumer goods firms.
As we reported earlier this year, Oxfam issued an analysis of the environmental performance of a number of leading food and consumer packaged goods companies. Rightly or wrongly, Oxfam gave Kellogg's a score of just 29% out of a possible 100%, putting it in seventh place among the 10 companies it analyzed. (See Supply Chain News: Sourcing Practices Continue to Gain Scrutiny from Environmental and Other Consumer Groups.)

"This is what we pushed the company to do," said Irit Tamir, special adviser in Oxfam America's private sector department. "Obviously, we think this is a great move."
By 2016, Kellogg also says it wants to have 30% of its plants sending zero waste to landfills, up from 18% now. It also aims to have more of its manufacturing facilities use low-carbon energy. For example, Kellogg's cited an Eggo bakery in San Jose where it installed fuel cell technology in 2013 that generates about half the electricity the facility needs. The company also uses solar energy and biomass boilers at some other plants.

Reports are that Kellogg's has been losing some marketshare in some key categories, and the moves may also be part of a broader strategy to get some of that share back.
"We know that our consumers really care about these [sustainability] issues; they care about where their foods come from and they care about how their foods are made," Holdorf said.

What do you think of Kellogg's new goals and approach? Will this place too large a burden on farmers? Why Let us know your thoughts at the Feedback button below.



TheGreenSupplyChain.com is now Twittering! Follow us at www.twitter.com/greenscm