As usual in June, BP released its annual Statistical Review of World for Energy 2018.The review is a sort of almanac of all matter of energy related data, now in its 67th year, and as always it is quite an interesting and educational read.
The headline news is that global primary energy consumption was up 2.2% in 2017, up from 1.2% in 2016 and the fastest since 2013. This compares with the 10-year average of 1.7% per year.
BP says that while much of this strength is the result of the generally strong and growing global economy in 2017, it also reflected a slight slowing in the pace of improvement in energy intensity (or energy productivity), defined the amount of energy needed to produce a unit of output.
The Green Supply Chain Says:
As was the case in 2015, growth was below average in all regions except Europe and Eurasia. Emerging economies accounted for almost all of the increase in global energy consumption, with about half coming from China and India alone.

What Do You Say?

Click Here to Send
Send Us Your Comments

This above-trend growth was also driven by consumption growth in the developed economies, particularly the EU. Still, the vast majority of the increase in global energy consumption came from the developing world, accounting for nearly 80% of the expansion.

For example, energy consumption rose by 3.1% in China, which is still considered a developing economy. China was the largest growth market for energy for the 17th consecutive year.

That 3.1% growth in Chinese energy consumption was up quite a bit from the previous few years, attributable in part to a rebound in the output of some of China's most energy-intensive sectors, particularly iron, crude steel and non-ferrous metals.
BP also notes that 60% of the increase in primary energy was provided by natural gas and renewable energy. Natural gas provided the single largest contribution to the growth of primary energy, buoyed by exceptional growth in China. This was closely followed by renewable energy (including biofuels), which again grew rapidly, driven by robust growth in both wind and solar power.
Nevertheless, global coal consumption grew for the first time since 2013. This was largely driven by India, but it's also notable that Chinese coal consumption increased after three years of successive falls.

Power generation globally rose by 2.8%, close to the 10-year average. Practically all growth came from emerging economies (94%). Generation in the OECD countries has remained relatively flat since 2010.

Renewables accounted for almost half of the growth in power generation (49%), with most of the remainder provided for by coal (44%). Meanwhile, the share of renewables in global power generation increased from 7.4% to 8.4%.
All that added up to not good news in terms of global carbon emissions, which  increased by 1.6% as a result of primary energy consumption, after little or no growth for the three years from 2014 to 2016.

BP says that emissions growth was the result of several factors, including string economic growth, driven by industrial activity, which is more energy-driven, causing gains in energy intensity to slow. And the turnaround in coal consumption, from the substantial falls seen in the previous three years to a small rise last year, meant the improvement in carbon intensity was more muted.
In the report, BP chief economist Spencer Dale writes that "My guess is that some of the deterioration in 2017 relative to the previous three years will persist, but not all of it. So I'm a bit worried, but not overly so. Personally, I am more worried by the lack of progress in the power sector over the past 20 years, than by the pickup in carbon emissions last year."
Supporting that last thought, the report notes that there has been no improvement in the mix of fuels feeding the global power sector over the past 20 years. For example, the share of coal in 2017 in terms of energy consumption for power was exactly the same as it was in 1998. And the share of non-fossil fuels was actually lower, as growth in renewables has failed to compensate for the decline in nuclear energy.
The report as usual has a wealth of information by energy source, highlights of which we publish below:


Oil:


Prices for Brent Crude averaged $54.19 per barrel, up from $43.73/barrel in 2016. This was the first annual increase since 2012. Of course, prices were rising rapidly at year's end, to about $66 per barrel, have now gone over $70, here in 2018.


Global oil consumption growth averaged 1.8%, or 1.7 million barrels per day (b/d), above its 10-year average of 1.2% for the third consecutive year. China (500,000 b/d) and the US (190,000 b/d) were the single largest contributors to growth.


Global oil production rose by 0.6 million b/d, below average for the second consecutive year. The US and Libya, posted the largest increases in output, while Saudi Arabia (saw the largest decline.


Natural Gas:
Natural gas consumption rose by 3%, the fastest since 2010.


Consumption growth was driven by China (31 bcm), the Middle East (28 bcm) and Europe (26 bcm). Consumption in the US fell by 1.2%, or 11 bcm.


Global natural gas production increased by 131 bcm, or 4%, almost double the 10-year average growth rate.


Coal:


Renewables, Hydro and Nuclear:


Renewable power grew by 17%, higher than the 10-year average and the largest increment on record (69 mtoe).


Wind provided more than half of renewables growth, while solar contributed more than a third despite accounting for just 21% of the total.


In China, renewable power generation rose by 25 mtoe – a country record, and the second largest contribution to global primary energy growth from any single fuel and country, behind natural gas in China.


World biofuels production increased by 3.5% in 2017, well below the 10-year average of 11.4%, but the fastest for three years. The US provided the largest increment (950 thousand tonnes of oil equivalent, or ktoe).


Hydroelectric power rose by just 0.9%, compared with the 10-year average of 2.9%. China's growth was the slowest since 2011, while European output declined by 10.5% (-16 mtoe).


Global nuclear generation grew by 1.1%.
An interesting chart illustrating the share of global energy consumption by fuel source over time is shown below: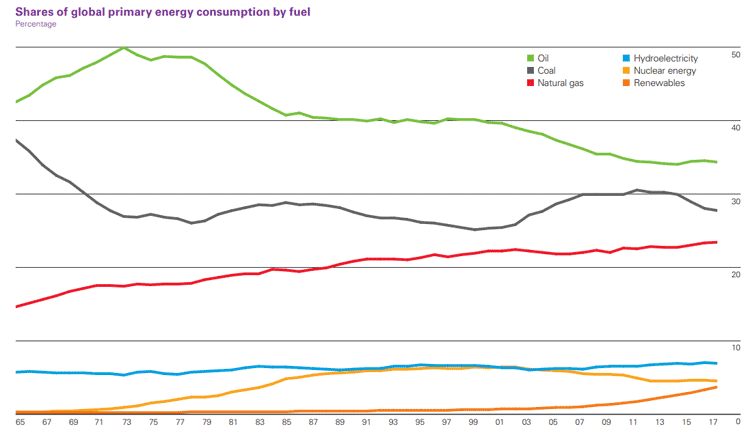 Source: BP


There's a lot more, and we encourage you to take a look at the report, which is available here:
BP Statistical Review of World Energy 2018
https://www.bp.com/en/global/corporate/energy-economics/statistical-review-of-world-energy.html
Good job by the experts at BP again this year.
Any reaction to this year's BP report? Let us know your thoughts at the Feedback button below.