Walmart is finally out with its Global Responsibility report for 2018, and as usual it covers a lot of ground.
The opening letter from CEO Doug McMillon was a little tamer than the "Walmart wants to change the world" message used in the past couple of years, but is still broadly similar in tone.
"To become the most trusted company in a way that creates value for business and society, we not only have to transform our day-to-day operations, we have to work alongside our suppliers, NGOs, thought-leaders and elected officials to change entire systems," McMillon wrote, adding that "We want to lead on the environmental, social and governance issues that matter most to our customers, associates, shareholders and communities."
Kathleen McLaughlin, Chief Sustainability Officer at Walmart, takes it a bit farther, writing that "Our approach to environmental, social and governance (ESG) issues goes beyond minimizing our own footprint or mitigating risk. We take a more assertive approach: sparking collective action to transform the retail sector for environmental, social and economic sustainability."
Obviously, the extended supply chain is a key focus for Walmart's efforts. In this year's report, Walmart says that it recognizes the power of its purchase orders as a lever in achieving the system-wide change it  aspires to.
Walmart says its on-line supplier portal contains information about its standards for worker safety in factories; emissions, product waste and other sustainability issues; and other issues that affect the environment.
As part of its supplier processes, Walmart says it is getting out in the field – literally in many cases – for what it calls  "eat what you cook" on-site visits. In the last year, those visits included interviewing fishermen on tuna boats in Southeast Asia, speaking with tomato farmer in fields and greenhouses, hearing from smallholders and ranchers near the forests of Brazil, and holding working sessions with small producers in Mexico.
It is important to give a voice to "the person at the far end of the chain, a voice that is often missing from big global discussions," Walmart notes.
Specifically for increasing the sustainability of its product supply chain, Walmart has the following priorities: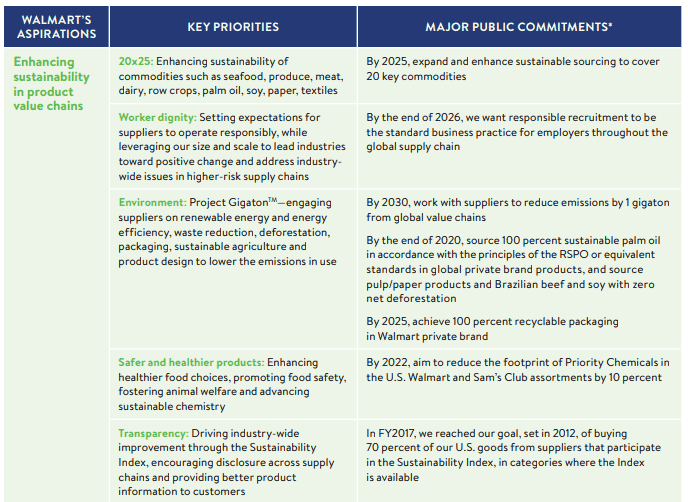 The report covers much ground across other areas, such as workforce development and local communities. As in the previous reports, Walmart notes it sees its mission to not only improve the lot of its own workers, but those of retail employees generally, in or outside of Walmart.
The report notes, for example, that in 2015, Walmart and the Walmart Foundation launched the Retail Opportunity Initiative, a five-year, $100 million philanthropic effort aimed at improving both the reality and perception of frontline retail jobs in the US as a pathway to advancement. That effort includes "Engaging other retail employers to improve the ecosystem."
As just one of many data points, Walmart notes that now 43% of its US management are women, as are 30% of US corporate auditors, up quite a bit from not that many years ago.
It also notes that for the second year Walmart received 100 out of 100 score on the 2017 Disability Equality Index.

Walmart also cites it efforts to source more products from US domestic suppliers, with the well-publicized Investing in American Jobs Initiative, with the goal of sourcing an additional $250 billion in products supporting American jobs through 2023.             
At the halfway point, Walmart says it has achieved 90% of what it had initially estimated for this point, but that it is "making steady progress across categories."
In June 2017, Walmart hosted its 4th annual Open Call for new U.S.-made products, at which entrepreneurs from 47 states participated in 686 meetings with Walmart buyers.
On reducing CO2 emissions, in April of 2017 Walmart launched Project Gigaton, a sustainability platform where the company "invites" suppliers to join Walmart in committing to reduce greenhouse gas emissions resulting from their operations and value chains. Not much information is provided in the report relative to progress with Project Gigaton thus far.

Interestingly, Walmart notes that "As we began working toward our 100% renewable energy aspirational goal, we quickly realized that to be successful we needed to reduce our energy demand - the denominator in the percent renewable equation - by achieving greater energy efficiency."

Walmart says that as of 2017, it estimates 28% of its electricity needs globally are now supplied by renewable sources.
From a logistics perspective, Walmart notes the challenges, writing that "the lifecycle of fuels has a variety of social, environmental and economic impacts. We need to be careful of trading off one impact for another such as an improvement in emissions reduction but increased impacts on local communities or higher maintenance costs."
Walmart notes that much progress has recently been made in electric trucks, but says that "The dynamic nature of our overall network is still a challenge for this technology but we are working with manufacturers and our operators to find routes that will work."
TheGreenSupplyChain.com will note that the logistics section is scaled back versus that found in many previous years.
There is a lot more in the full report, including a very long section on reducing waste. It can be found here: Walmart 2018 Global Responsibility Report
Any reaction to Walmart's 2018 report summary? Let us know your thoughts at the Feedback section below.