The UK-based Carbon Disclosure Project is out with its top green supply chains for 2019, and it's an interesting list.
CDP got its start a number of years back by offering a service under which it sends surveys on behalf of sponsoring companies to their suppliers relative to CO2 emission levels, management and measurement practices, and more.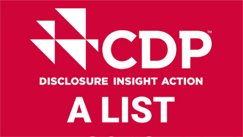 When CDP launched a decade ago, there were 19 sponsoring companies. Today, there are 115, with tens of thousands of total suppliers and some annual purchases of some $3.3 trillion.
Last year, about 5500 hundreds suppliers completed the CDP survey.

This year, CDP again rates CO2 emissions "leadership," based on several factors. The criteria were changed this year and were not well explained on the CDP web site, but involved scores for disclosure, awareness, management, and leadership.


Some 6800 companies were said to have submitted data to CDP. From there, 137 companies received an A grade. Of those, 27 were American.

Of those 27 companies, 15 were what you might call physical product companies, not banks or hotel chains or other service-oriented businesses.
The Green Supply Chain Says:
Far more US companies received a scale of C or C minus - 131 to be exact. And 101 received grades of D or D minus.

What Do You Say?

Click Here to Send
Send Us Your Comments

Those 15 were:
Apple
Best Buy
Cisco
General Mills
Hewlett-Packard Enterprise.
Home Depot
International Flavors and Fragrances
Johnson & Johnson
Lockheed Martin
Owens Corning
PACCAR
Phillip Morrris
Stanley Black and Decker
Tessy Plastics
UPS

But far more US companies received a scale of C or C minus - 131 to be exact. And 101 received grades of D or D minus. That is interesting indeed.

The rankings of CEOs of A graded companies were surely strutting around the recent Davos conclave in Switzerland, where the new scores were released.
The report also had rankings for water and forest management, but this involved a small number of firms at this time.
CDP also says going Green is good for shareholders, noting that the STOXX Global Climate Leaders index, based on the CDP A List, outperformed the STOXX Global 1800 of major firms by a substantial 5.4% a year from December 2011 to July 2018.
"We think (climate action) is a lead indicator of quality in other areas, especially sustainability and management," Dexter Galvin, global director of corporates and supply chains at CDP.
The CDP web site has all the rankings, including sortable lists by country, industry sector and other factors, and can be found here:  CDP Green Supply Chain Rankings for 2019
What is your take on the CDP Green Supply Chain Rankings for 2019? Let us know your thoughts at the Feedback button below.