Amazon has always been viewed something of a laggard by some in the environmental community.

For example, it recently received a score of F in the new rankings on C02 emissions from the UK-based Carbon Disclosure Project, though that seems more related to not participating in the process as opposed to actual practices.
But that is likely to change soon. In a blog post last week, Amazon announced a goal that 50% percent of its ecommerce shipments will become carbon neutral by 2030.

That as part of an ambitious new "Shipment Zero" initiative Also included was an update on its previously announced long-term goal of using 100% renewable energy for all Amazon infrastructure globally, saying it was making "solid progress" towards this target, without giving more detail.

"With improvements in electric vehicles, aviation bio fuels, reusable packaging, and renewable energy, for the first time we can now see a path to net zero carbon delivery of shipments to customers," the company said in the blog post.
While it has certainly kept a generally low environmental profile, versus say top competitor Walmart, Amazon has developed a few sustainability initiatives in recent years. That includes the program to use renewables at its facilities, such as data centers and other fulfillment sites, with network of solar and wind farms to generate power, and solar panels installed on some of its fulfillment center rooftops.
Other programs include "Frustration-Free Packaging" and "Ship in Own Container," the former program to reduce packaging material needs and the latter to encourage its vendors to send products to Amazon fulfillment centers in ready-to-ship cartons. TheGreenSupplyChain.com will note both programs are also big money savers for Amazon in addition to generating overall environmental benefits
In the blog post, Amazon also committed to releasing its full carbon footprint later this year.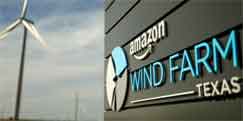 Amazon also said it employs more than 200 scientists, engineers and product designers who are dedicated to developing new ways to leverage Amazon's scale for the "good of the customers and the planet."
In the announcement, Amazon also said it is making investments in "circular economy" practices, without detailing those efforts.
But in addition to the low scores from the Carbon Disclosure Project, environmental group Greenpeace has also been critical of Amazon relative to the environment.
For example, before Amazon's blog environment, the organization said the internet giant is failing to deliver on its commitment to shifting to renewable energy. A new Greenpeace report noted Amazon's data centers in Virginia are powered by only 12% renewable energy, versus 37% at Facebook 37% and 34% at Microsoft.
However, soon after Amazon responded that Greenpeace's data was inaccurate, saying that the report had failed to highlight web service unit AWS and corporate investment in solar projects in Virginia, as well as unique challenges of using renewables in the state.
What do you think of Amazon's initiative to go carbon neutral on shipments? Is it becoming a Green company – or all for show? Let us know your thoughts below.