Amazon has for many years been a lightning rod for its supposed lack of environmental and other sustainability programs and goals, though those critiques were certainly muted a bit when in February Amazon announced its Shipment Zero initiative, a vision to make all Amazon shipments net zero carbon at some point, with 50% of all shipments net zero by 2030.
Now, the company's shareholders have voted down to environmental proposals championed by a subset of those shareholders – and thousands of Amazon's own employees.
The Green Supply Chain Says:
In a press conference after the meeting, the employees call themselves Amazon Employees for Climate Justice, announced plans to re-file the resolution next year.

What Do You Say?

Click Here to Send
Send Us Your Comments

One resolution would have required the Amazon to detail its plans for reducing its use of fossil fuels and its strategy for dealing with global warming's growing impact on operations.
Specifically, the resolution asked the board to "prepare a public report as soon as practicable describing how Amazon is planning for disruptions posed by climate change, and how Amazon is reducing its company-wide dependence on fossil fuels."
Another resolution called for linking executive compensation to sustainability goals.
Both measures were voted down by shareholders, as most such shareholder resolutions usually are across all public companies in the US.
"It's unacceptable for one of the richest companies in the world to continue to take half actions as the consequences of its emissions put so many lives of the global poor at risk," Rajit Ifthikar, an Amazon employee who pushed for the climate change initiative, told reporters gathered around him after the meeting.
The involvement of employees – nearly all of them also shareholders – is interesting.
Though Amazon advised them not to do so, employee shareholders introduced the proposal relative to detailing it plan to reduce CO2 in late 2018, with more than 7,000 workers publicly supporting it – a move that may have been a catalyst for the company's announcements around its environmental policy in February.
Amazon recommended that shareholders reject the proposals, saying that it is already reducing its emissions and has a long-term goal to use only renewable energy. It asked employees involved to retract their resolution immediately after its February announcement on its new environmental strategies.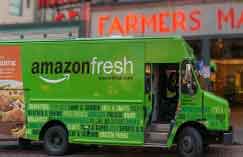 "One of the things that's really resonated with people [is] this sense of 'Why isn't Amazon leading on that?'" Weston Fribley, one of 16 employees who introduced the shareholder resolution in December, said after the vote. "We would really like to work for a company that's taking this seriously and prioritizing its own fossil-fuel reduction."

One employee, Emily Cunningham, had some chutzpa, inviting CEO Jeff Bezos to hear the resolution in person on stage.

"I would like to ask for Jeff Bezos to come out on stage so that I can speak to him directly," she said.

Institutional Shareholder Services has written that Amazon "lags its peers in not publicly disclosing its carbon footprint …. and not setting science-based, time-bound targets for reducing its [greenhouse gas] emissions."
But in addition to its Shipment Zero program, Amazon also says it has a long term commitment to powering it global infrastructure using 100% renewable energy.
It's hard to find an issue that is more important than climate change," Bezos said after the meeting. "There are a lot of initiatives underway, and we're not done. We'll think of more, we're very inventive."
However, In a press conference after the meeting, the employees call themselves Amazon Employees for Climate Justice, announced plans to re-file the resolution next year.
Any reaction to Amazon's decision regarding sustainability? Let us know your thoughts at the Feedback button below.