California continues to make aggressive moves to reduce greenhouse gas emissions at its ports, especially the Ports of Los Angeles and Long Beach.

Last week, the California Air Resources Board announced it has preliminarily awarded $41 million to the Port of Los Angeles to begin developing a network to transport goods throughout southern California using electric trucks powered by hydrogen fuel cells.

With this technology, fuel cells charge a battery during operation, generally meaning much longer driving ranges per hydrogen fill up than can be realized by charging a battery with electricity. Fuel cells emit only water vapor.

Hydrogen fuel cell-electric systems also have a refueling time comparable to that of regular diesel trucks, versus the four-hour recharging times for all-electric vehicles.
Under the CARB program, the government is fronting half of the $82.5 million needed for the initial phase the Zero Emission and Near-Zero Emission Freight Facilities programs, with partners Toyota, Kenworth, and Shell providing the other half in matching funds.


The project phase will involve Toyota and Kenworth working together to develop 10 new hydrogen fuel-cell electric Class 8 trucks based on the Kenworth model T680. The trucks will move freight throughout Southern California and will be operated by Toyota Logistics Services, UPS, Total Transportation Services, and Southern Counties Express.


Shell, in turn, will construct new large capacity hydrogen fueling stations, which will join three additional stations already located at Toyota facilities.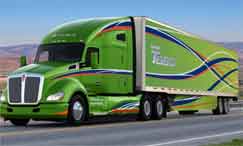 The project also expands the use of zero emissions technology in off-road and warehouse equipment, such as lift trucks. This includes two zero emissions yard tractors to be operated at the Port of Hueneme and expanded use of zero-emission forklifts at Toyota's port warehouse.

The project is part of California Climate Investments, a statewide initiative that uses funds raised from the state's cap-and-trade regime to invest in Green projects.


The Port of Los Angeles will develop the project in several phases, ultimately encompassing initiatives in Southern California, the Central Coast Area, and Merced County. The initial phase is designed to kick-start the leap to a new class of goods movement vehicles.


The "Shore to Store" project complements the extensive zero-emissions technology that is already under development for testing at Los Angeles terminals.


Chris Cannon, who heads the Port's environmental office, says the first trials of hydrogen fuel cell-electric trucks could begin in late 2019 or early 2020.

He added that the infrastructure component of the project is one of the biggest hurdles facing zero-emissions trucking. Other tests of zero emissions trucking have not been able to scale up due to the limits of finding refueling stations.
Earlier this year, Kenworth debuted two versions of the T680, one using hydrogen fuel cells and one using compressed natural gas. Kenworth is also working with UPS on a Department of Energy Funded project to develop a green truck. Kenworth has been road testing the trucks, but they have not been commercially deployed as yet.
What is your take on Hydrogen Fuel Cell Truck Technology? Let us know your thoughts at the Feedback button below.