According to a panel of experts, success with electric trucks will require significant collaboration among all parties involved, including original equipment manufacturers, fleets and utilities, to advance the technology.

The Green Supply Chain Says:
Instead of undertaking a large-scale fleet overhaul, many companies will prioritize electric options when replacing vehicles.

What Do You Say?

Click Here to Send
Send Us Your Comments

That was the theme of panelists taking part in GreenBiz Verge Conference in Oakland two weeks ago, as reported Transport topics magazine. The panel promised a discussion on "Why Early Adopters Are Electrifying Fleets."
The panelists included Tamara Barker, chief sustainability officer for UPS; Mike Roeth, executive director of the North American Council for Freight Efficiency; Dakota Semler, CEO of Thor Trucks; and Nate Springer, manager for climate and logistics at Business for Social Responsibility.

Electric trucks, of course, offer the promise of greatly reduced CO2 emissions, though just how much less will depend on what happens in terms of electricity generation approaches.

According to Transport Topics, Roeth and Semler said freight delivery applications with high frequencies of starting and stopping and that are close to home make the most sense for electric trucks currently. That is of course because current battery technology won't support long haul moves of hundreds of miles, regardless of what Telsa says.
In fact, in excess of 60% of the vehicles in commercial operation are in shorthaul, return-to-base applications.  In those applications, there is an ROI today for electric vehicles, Semler said, which wasn't the case five to 10 years ago.
The barrier to adoption of electric trucks remains their cost, according to a new research report from UPS and GreenBiz, with the survey finding 55% of respondents said the initial purchase price of commercial electric vehicles is the top barrier facing the technology. Another 44% viewed inadequate on site charging infrastructure as a barrier, and 92% said their facilities are not well-equipped to accommodate commercial charging needs.
Roeth noted that creating the charging infrastructure may be more difficult depending on scale. "If you're doing one truck, you can put up a stand. If you're doing a bunch of trucks, you'll have more work to do, and you have to tear up concrete in some cases," he said.

The study showed that the top motivation to go electric for 83% of large businesses surveyed is sustainability and environmental goals. That was followed by lower cost of ownership, cited as a key benefit by 64% of respondents.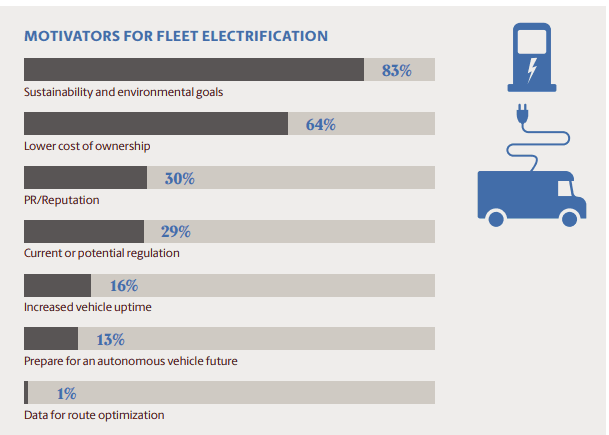 Source: UPS
UPS has learned a number of lessons from its early involvement in electric vehicles, Barker said. She advises that all parties that will be impacted by electric vehicle decisions be involved in the early decision-making process. "Where you decide to put the chargers may work for eight hours of the day, but the other eight hours there may be another operation," she said.
The UPS survey also found starting small can help companies overcome these challenges. Instead of undertaking a large-scale fleet overhaul, many companies will prioritize electric options when replacing vehicles and even consider electric leasing options to mitigate the initial purchase price, the study said.
What is your reaction to the Panel Discussion on Lessons from Early Electric Truck Adopters?