---
The Green Supply
Chain Says:

NAM added that "This legislation is needed to stem the tide of the EPA's overreach and give our nation's job creators the assurance they need to expand their businesses and put Americans back to work."
The rhetoric and rancor between the many members of Congress and the US Environmental Protection Agency continues to heat up, as the EPA continue to make moves to limit CO2 and other Greenhouse gases in the absence of any climate legislation from Congress.
The House Energy and Commerce Committee was meeting this morning to mark up and presumably vote out or send to the House floor H.R. 910, the Energy Tax Prevention Act, which would prevent the EPA from regulating Greenhouse gas emissions under the Clean Air Act.
The bill is expected to come to a House vote in a couple of months and to pass the Republican-led chamber.
Its prospects in the Democrat-controlled Senate are less certain, though a number of Democrats in both houses in the past have questioned whether the EPA should have such sweeping power to regulate CO2 emissions with a bill authorizing that authority. In fact, Democratic Senator Jay Rockefeller is sponsoring a Senate bill that would freeze EPA authority to regulate Greenhouse gases.
The EPA under current chief Lisa Jackson has taken aggressive steps in the past year to issue regulations controlling Greenhouse gases as it became clear with the November 2010 elections that Cap and Trade or other legislation to limit CO2 emissions in some way was not going to move through Congress. A Cap and Trade bill was passed by the House, then with a Democratic majority, in 2008, but failed to clear the Senate. The change in control of the House in 2010, plus more Senate Republicans and concerns about Cap and Trade's impact on the economy and jobs made it clear no such legislation would make it through until at least after the 2012 elections.
The EPA's effort to take on GHG emissions in the absence of action in Congress began in December, 2009, when EPA found that elevated atmospheric concentrations of six GHGs endanger both public health and welfare. Under the Clean Air Act, this gave the EPA the authority to take action to reduce Greenhouse gas emissions on its own. (See EPA Issues "Guidance" in Controversial Plan to Regulate Greenhouse Gas Emissions; New Requirements Mostly for Large Factories.)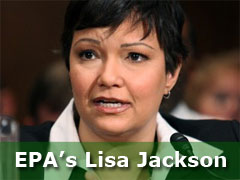 The House bill would prevent the EPA from regulating Greenhouse gas emissions from stationary sources (e.g., factories, utilities) under Clean Air Act authority. It would also allow the EPA to regulate mobile source (cars, trucks) emissions for model years 2012-2016 but would prevent regulation during subsequent years.
The National Association of Manufacturers (NAM) said in a blog post this week that "Manufacturers face tremendous uncertainty as the EPA and state permitting authorities begin the implementation process of regulating GHG emissions from stationary sources. Though the EPA is currently regulating the largest new and modified facilities, it has announced that it will start regulating existing power plants and refineries in the near future. Manufacturers use one-third of our nation's energy, and burdensome regulations on these facilities will increase manufacturers' energy costs, hindering our competitiveness. Furthermore, as many as six million industrial facilities, power plants, hospitals, agricultural and commercial establishments eventually will be subject to regulation under the CAA."
NAM added that "This legislation is needed to stem the tide of the EPA's overreach and give our nation's job creators the assurance they need to expand their businesses and put Americans back to work."
Firing back, EPA chief Lisa Jackson said this week that the bill "would presume to overrule the scientific community on the scientific finding that carbon pollution endangers Americans' health and well-being - politicians overruling scientists in scientific questions."
The issue is not only about the approach to CO2 regulation, it also is a turf battle over who should drive any such regulations. Michigan Congressman John Dingle, for example, was a key player in the passage of the Clean Air Act and subsequent revision, but says it was never intended to give the EPA authority to regular relative to climate change.
As we have said on these pages, how companies approach the "Green Supply Chain" will vary dramatically depending on whether there is real government regulation and cost, through Cap and Trade law or EPA regulation, or if it is based on a company's own decisions about costs, investments, consumer appeal, etc.
Are you for or against this bill to rein in the EPA on climate regulation? Do you think such regulations will put the US economy at a disadvantage or not? Let us know your thoughts at the Feedback button below.


TheGreenSupplyChain.com is now Twittering! Follow us at www.twitter.com/greenscm