---
The Green Supply
Chain Says:

Amazon regularly states its commitment to the environment, and notes for example it has been very involved in working with suppliers to improve package design.
The deadline for suppliers of large companies to submit answers to the Carbon Disclosure Project (CDP) questionnaire looms, with the date of July 31 rapidly approaching. That deadline is a good reason to take a look at the very different approaches to how fierce competitors WalMart and Amazon.com are collaborating - or not - with the CDP.

The London-based CDP is a non-profit organization with a mission to reduce carbon emissions by companies worldwide, through documentation that details how much carbon a company or its suppliers is emitting. The basic theory is an old one – what get's measured gets managed, in this case the environmental group hopes that means managed downward.

The foundation of the CDP are two standard surveys. One is focused on institutional investors, and on their stated behalf the CDP requests carbon emissions data from major corporations across the globe. The idea is that carbon emissions levels by a company are material information to investors and a potential source of company risk. For example, a company with a high level of carbon emissions either directly or indirectly in its supply chain could be at a disadvantage if a strong cap and trade or direct carbon tax was ever to be implemented.
In 2007, the CDP began a related program for a company's full supply chain. The CDP Supply Chain process began with a partnership between CDP and WalMart in September 2007, when WalMart decided to use the CDP process to engage its supply chain to report on climate change-relevant information.
The world's largest retailer requests that its 100,000 or so suppliers worldwide start reporting to the CDP as part of the Walmart's Supplier Sustainability Assessment. Suppliers complete this assessment online and receive a score.
Questions from the CDP survey include the following:
• Is climate change integrated into your business strategy?
• Did you have an emissions reduction target that was active (ongoing or reached completion) in this report?
• Please provide details of your intensity target
• Did you have emissions reduction initiatives that were active within the reporting year?
• Have you identified any climate change risks (current or future) that have the potential to generate a substantive change in your business operations, revenue, or expenditure?
• Please describe your gross combined Scope 1 and 2 emissions for the reporting year in metric tons CO2e per unit currency total revenue
CDP says that it appears twice as many WalMart suppliers are participating in the survey this year as they did in 2010, though it did not offer a specific number of respondents. The completion of the survey is voluntary, but WalMart has said in the past that a supplier's greenhouse gas abatement strategies could someday affect its standing as a WalMart vendor, although that does not seem to be the case in practice yet in the early years of the assessment.
Amazon.com, conversely, which may be WalMart's most important competitor and has the second largest retail stock market cap globally next to WalMart, is resisting participation in the CDP.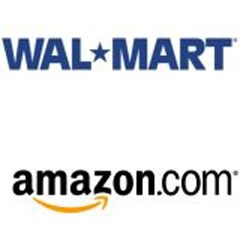 Amazon regularly states its commitment to the environment, and notes for example it has been very involved in working with suppliers to improve package design, citing a case where it showed Philips/Norelco how to improve and reduce its packaging on some products sold through Amazon.
Amazon, however, does not participate in the CDP, either for its own operations or for that of its suppliers.
The company believes sustainability issues are up to its customers and suppliers, and its web site points to consumer behavior as evidence that e-commerce makes "greener lives" easier. It also believes that mitigating greenhouse gas emissions from its logistics partners is really a matter for carriers such as UPS and FedEx, not itself.
Two things make Amazon very different than WalMart with regard to CO2 emissions. The first is obviously that despite a vast and rapidly growing distribution network, Amazon does not have retail stores, whereas WalMart manages a massive fleet of dedicated trucks for store replenishment.
The other is that Amazon also offers a broad set of computing services for mid-sized and smaller companies on its cloud computing platform. That gives it an IT operation and set of data centers similar to many other more traditional IT service providers. Generally, IT companies (Dell, HP, others) have been very aggressive in terms of green initiatives and participation in the CDP process.
Earlier this year, Calvert Investments, an investment firms focused on environmentally friendly companies, filed a shareholder proposal with the U.S. Securities and Exchange Commission earlier this year urging Amazon stockholders to vote yes on a resolution asking Amazon to disclose quantitative data related to its data centers, its Kindle e-reader product, and business risks associated with climate change, and to participate in the CDP.
Amazon urged its shareholders to vote no on the proposal, and at its 7 June annual shareholders meeting it announced that the Calvert proposal was defeated. You can find the proposal and Amazon's summary response here: Shareholder Proposal to Force Amazon to Disclose more Carbon Emissions Data.
Amazon has said that it does not believe that "preparing an ad hoc climate change report is an efficient use of time and resources."
What are your perspectives on the different approaches from WalMart and Amazon to carbon disclosure efforts? Do you think large companies should force suppliers into the CDP process? Let us know your thoughts at the Feedback button below.


TheGreenSupplyChain.com is now Twittering! Follow us at www.twitter.com/greenscm