---
The Green Supply
Chain Says:

At Richmond Build, only 35 of 221 graduates of its clean energy program have found jobs in clean energy. Many more have found employment in traditional trades.
Business and green circles were both buzzing this week about a weekend article in the New York Times saying the hoped for explosion in green jobs here in the US, often supported by substantial federal and state funding, just isn't happening, even though many viewed such jobs as key to putting American manufacturing and employment back on their feet.
"The green economy is not proving to be the job-creation engine that many politicians envisioned," reported Aaron Glantz. "President Obama once pledged to create five million green jobs over 10 years. Gov. Jerry Brown [California] promised 500,000 clean-technology jobs statewide by the end of the decade. But the results so far suggest such numbers are a pipe dream."
A study by the middle of the road Brookings Institution found clean-technology jobs accounted for just 2% of employment nationwide and only slightly more - 2.2% - in Silicon Valley, where many thought the technology-focused business climate and rich pools of venture capitalists would drive significant growth in green start ups and employment.
Rather than adding jobs, the study found, the green energy sector actually lost 492 positions from 2003 to 2010 in the Silicon Valley, though Brookings does say that green energy jobs grew somewhat faster than the overall economy nationwide since the recession.
Even when there some activity, the actual results can be disappointing. In San Jose two weeks ago, the mayor led a ribbon cutting ceremony for a new headquarters building for solar panel maker SolFocus, saying "Clean technology is the next wave of innovation that Silicon Valley needs to capture."
But the solar panels are being made in China, and the new facility carries with it just 90 jobs. Earlier this month, Massachusetts-based Evergreen Solar, another panel builder that received at least $43 million in state funding and was earlier touted by President Obama as a model of the future, filed chapter 11 bankruptcy and announced it was continuing production only in China.
Evergreen's CEO said the company's main Massachusetts factory couldn't match global solar-panel prices that have plunged because Beijing does so much more for Chinese manufacturers.
Even free money isn't working.
"Two years after it was awarded $186 million in federal stimulus money to weatherize drafty homes, California has spent only a little over half that sum and has so far created the equivalent of just 538 full-time jobs in the last quarter, according to the State Department of Community Services and Development," Glantz wrote.
So what happened to those opportunistic expectations?
First, many may have miscalculated how much consumer enthusiasm there really is for clean energy.
"Companies and public policy officials really overestimated how much consumers care about energy efficiency," says Sheeraz Haji, chief executive of the Cleantech Group, a market research firm.
Green Job Growth Since 2003 Has Been Slow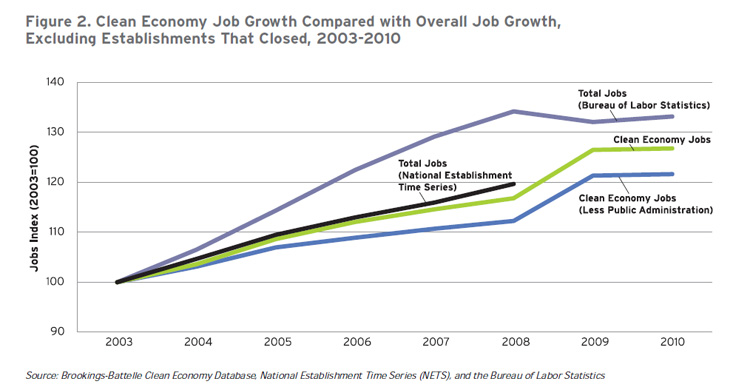 Similarly, Fred Lucero, a manager at a training school Richmond Build, which teaches green job skills such as solar panel installation, says that "The demand's just not there to take this to scale."
Training for a new green jobs future is becoming very expensive. The Economic Development Department in California reports that $59 million in state, federal and private money dedicated to green jobs training and apprenticeship has led to only 719 job placements. That's the equivalent of an $82,000 subsidy for each one.
At Richmond Build, only 35 of 221 graduates of its clean energy program have found jobs in clean energy. Many more have found employment in traditional trades.
Van Jones, a controversial political activist who was briefly the Obama administration's "green jobs czar" blames lack of cap and trade legislation for the slow green energy progress, as does Cleantech's Haji.
"Having a market mechanism that helps drive these new technologies would have made a significant difference. Without that, the industry muddles along," he says.
Opponents of cap and trade or similar legislation say the burdens on business from such rules would lead to job losses in other areas, countering any green jobs effect.
The net of all of this is that whether or not the US starts to see real progress in green job creation, it is unlikely to be the economic and jobs salvation some had earlier predicted.
What your reaction to these assessments of the green jobs future? Should the US do cap and trade to stimulate green job growth, or is that counter-productive? Let us know your thoughts at the Feedback button below.


TheGreenSupplyChain.com is now Twittering! Follow us at www.twitter.com/greenscm