---
The Green Supply
Chain Says:

Henkel says one focusis on "multi-use systems wherever possible in the form of re-usable transport containers, pallets, and secondary packaging" for industrial customers.

Click Here to Send Us Your Comments
Consumer and industrial products maker Henkel, a German company with significant presence in the US and around the globe, has just released its latest sustainability report, and announced an ambitious new Sustainability Strategy for 2030 that aims to triple the company's production and resource efficiency over the next two decades.
Henkel, maker of well known brands such as Loctite, Purex, Dial, Right Guard and more, said "that means either delivering three times more value with the same environmental footprint, or reducing the footprint to one third while providing the same value."
It added that "This requires us to pioneer new solutions, adjust our strategies and challenge the way we run our businesses and operations."
The company has titled this effort internally as 'Factor 3."
To get there, Henkel will develop a series of shorter-term five year targets, with the current one setting a goal of a 30% increase in efficiency. The company said it will focus on its own operations first, but will turn its attention to suppliers and other supply chain partners soon after.
With manufacturing operations in 56 countries, coordinating this massive effort will be a real challenge. The value chain areas for the program are: raw materials use and sourcing; production; distribution; consumer use; and disposal of the product at end of life.
For example, in the "use" area, Henkel says it "concentrates on developing products that enable the efficient use of resources such as energy and water." For "disposal," it says the focus is on "reducing the volume of packaging and the amount of material used," for home consumers, and on "multi-use systems wherever possible in the form of re-usable transport containers, pallets, and secondary packaging" for industrial customers.
In turn, there are also six focal areas that run across each of those steps in the value chain. Prior to this year, there were five areas of focus: social progress, energy and climate, material and waste, water and waste water, and safety and health. This year, a sixth focal area - performance - was added, which seems to mean a greater focus on actually achieving its objectives.
Interestingly, as shown in the graphic below, Henkel now groups these six focal areas into two dimensions: (1) delivering more value, and doing so (2) across a reduced environmental footprint.
Henkel Sustainability Focal Areas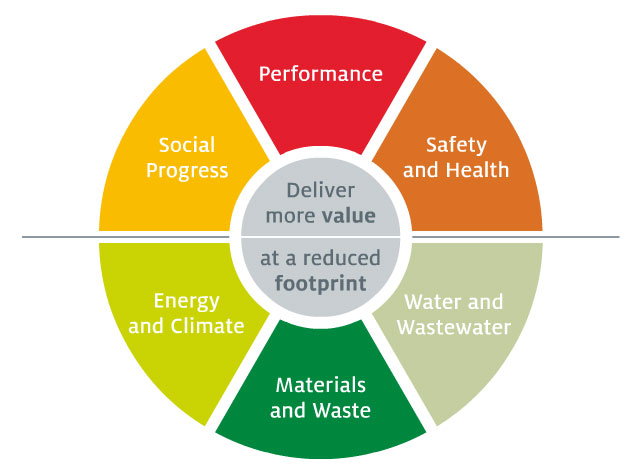 In the climate area, for example, the interim five year goal is " A further 15 percent reduction in energy consumption – and the associated carbon dioxide emissions – per production unit by 2015 (base year 2010)."
Henkel also says it will make "Regular checks of our production sites to determine whether the use of renewable energy sources is ecologically and economically worthwhile." It also has a similar goal of another 15% reduction in water reduction per unit by 2015.
Henkel also says it is developing a new measuring system in order to assess the contributions each of its products make along the value chain and to quantify the progress achieved in every product category.
While the initial focus is primarily internal, as noted above, suppliers and other trading partners are also clearly on the radar screen.
" We will increase our efforts to support [suppliers and customers] with our products and expertise," Henkel says. "This includes encouraging suppliers to lower the impacts of the raw materials we source as well as enabling customers and consumers to reduce their environmental footprint."
And perhaps most interesting of all, Henkel says it will "work together with international initiatives and communities to decouple economic development and quality of life from using more and more resources."
Henkel has been at this game about as long as anyone, having published it first environmental report all the way back in 1992.
What is reaction to Henkel's Factor 3 program? Is that sort of improvement possible? Will companies run into a wall where making such progress starts to impact costs? Let us know your thoughts at the Feedback button below.

TheGreenSupplyChain.com is now Twittering! Follow us at www.twitter.com/greenscm