---
The Green Supply
Chain Says:

Walmart delivered 65 million more cases while driving 28 million fewer miles over the baseline, results achieved by increasing the number of pallets per trailer and better managing its routes.




Click Here to Send Us Your Comments
Walmart has just released its sustainability report for 2012, mostly reporting progress along a seemingly endless range of initiatives.
Walmart starts by noting its three overarching goals that it set in 2005: to be supplied 100% by renewable energy; to produce zero waste, and to sell products that sustain health and the environment. There's no timetable for meeting these objectives, but they drive the company's effort and investment in sustainability.
Setting really ambitious goals means sometimes you may not meet them on the timeline you hope for, Walmart CEO Mike Duke says in some upfront commentary in the report.
For example, "We've committed to improving energy efficiency by 20 percent at the top 200 factories in China from which we source, by the end of 2012," Duke writes. "Progress has been slower than we'd like because we've run into infrastructure challenges, such as a lack of modern metering systems and the fact that a lot of power is generated on site."
However, he said 148 out of the 200 sites have achieved the 20% reduction goal.

Duke also says that Walmart currently produces 4% of its total energy needs from renewable sources, and sources another 18% of its needs, so that in total 22% of its electricity already comes from renewables.
Duke also said he believes sustainability is critical to Walmart's strategy of being the low cost provider.
The report lists some notable achievements for 2011. Those include:
• Continued Reduction in Waste going to Landfills: Walmart says that last year, 80.9% of its physical waste in the US was recycled, and that this was worth some $231 million to its bottom line from recycling revenues and other cost avoidance. It says that its ASDA stores in the UK sent zero waste to landfills.
• Local Produce Sourcing: Per earlier announced initiatives, Walmart says last year it increased the amount of locally grown produce it sells by 97%, and that local now accounts for more than 10% of all produce sold in its US stores. It aims to double the amount of locally grown produce it sells on the US by the end of 2015 from 2010 levels.
• Sourcing from Women-Owned Businesses: In 2011, Walmart committed to sourcing $20 billion over the next five years from women-owned business in the US and doubling such sourcing globally.
• Lowering Costs of Organics: In a move not popular with other retailers, Walmart said last year it would largely eliminate the price premium for organic produce, which it says saved its customers $1 billion last year in total.
• "Great for You" Icon: In January of this year, Walmart announced plans for a "Great for You" icon to help consumers easily and quickly identify healthier food options. It will appear in Walmart US produce areas this summer and on its private label Great Value and Marketside items that meet nutrition criteria beginning this fall. The icon will also be made available to national-brand products that qualify.
• Integrated Sustainability Index: Last year, Walmart began to integrate a supplier Sustainability Index into its business into terms of scoring vendor product offerings. Over the past year, Walmart says "We used these metrics to develop our first category scorecards to help our buyers evaluate products, and we expect to develop scorecards in up to 100 major categories by the end of 2012."

Focus on Logistics Safety
Walmart says that last year, it announced a new Enhanced Behavior Based Safety Program for its US logistics operations.
A key concept of this program, which will be fully rolled out over the next couple of years, is called "Actively Caring," which it says is "moving beyond simply caring about others, to acting on that caring or sense of responsibility. This concept teaches our associates to look after their own safety, and also to look after the safety of their fellow associates. By implementing this concept, as well as others, the network can achieve a Total Safety Culture."
Even though the program is in its early stages, Walmart says its US Logistics Network saw a 25% improvement in its recordable injury rate, which it says is 35% less than the Bureau of Labor Statistics Warehousing and Storage Industry average. Walmart also saw its DART rate performance come in 15% lower than the industry average. (DART is a measure of how many days away from work or restricted work a company's employees have related to injuries).
Walmart also says that it has achieved a 69% improvement in fleet efficiency in the US over its 2005 baseline. That means it delivered 65 million more cases while driving 28 million fewer miles over the baseline, results achieved by increasing the number of pallets per trailer and better managing its routes.
In a broader supply chain context, Walmart says it is actively working with supplier factories to improve conditions there. In the second year of what is calls its Supplier Development Program, Walmart Ethical Sourcing team works closely with suppliers to improve working conditions in factories. It says that through this and other related programs, 286 factories supplier factories improved from an orange to a yellow rating in terms of conditions and practices (against a five-color grading scale of green – yellow - orange – red/disapproved - red/failed).
Walmart adds that it audited 96% of its supplier facilities for private label type merchandise last year (against a goal of 100%), and that 94.8% of direct import factories have received one of the two highest ratings under its evaluation system (against a goal of 95%).
The chart below shows the progress of this program over time and by region, and later in the report, Walmart notes many regions of the world have challenges in meeting its goals.
Walmart's Progress in Improving Conditions at Offshore Supplier Factories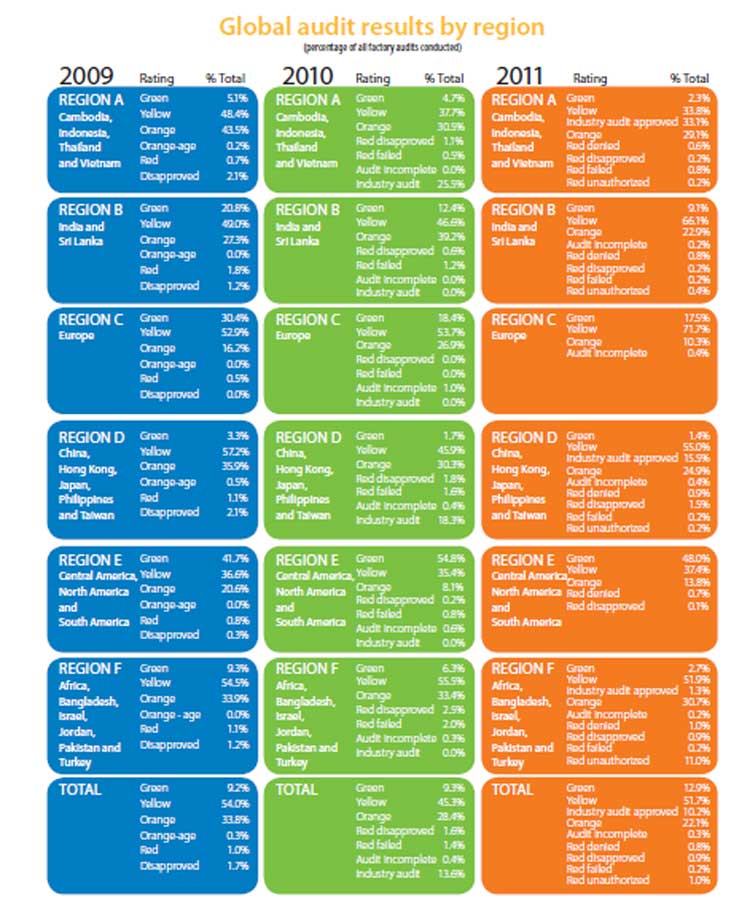 There is a lot, lot more, but you get the idea.
The full report can be found here: Walmart 2012 Sustainability Report
What is your reaction to the scope, scale and achievements of Walmart's sustainability efforts? Let us know your thoughts at the Feedback button below.


TheGreenSupplyChain.com is now Twittering! Follow us at www.twitter.com/greenscm