---
The Green Supply
Chain Says:

The move by Shell can in part be seen as a "land grab" of sorts, securing a natural distribution outlet for natural gas for trucking before someone else got there first, especially given Clean Energy's deal with Pilot/Flying J.




Click Here to Send Us Your Comments
The move to trucks powered by natural gas, which could have a dramatic impact on US energy consumption and security and the overall economy, really does appear to be gaining momentum, as indicated by two important announcements last week.
First, oil giant Shell announced plans to develop natural gas filling stations at some 100 Travel Centers of America truck stops.

Travel Centers, based near Cleveland, announced that it had entered into an agreement with Shell to build and operate a network of at least 200 liquified natural gas (LNG) fueling stations at 100 or more Travel Centers locations on U.S. interstate highways. Thereafter, expansion will be based upon customer demand for the fuel, Travel Centers said.
Travel Centers said it also will train "a significant number" of its approximately 3,000 repair technicians to work on LNG vehicles.
"The locations will be jointly selected by TA and Shell with the intention of creating the infrastructure required to allow natural gas powered trucks to travel across the United States," a press release from the company said.
Travel Centers has 238 locations, almost all along major interstates across the country. They are especially concentrated in the Midwest and eastern half of the United States, which also is where CNG fueling has lagged compared to some areas in the western and southern United States.
The deal gives some competition to Clean Energy Fuels, the company started by legendary energy investor T. Boone Pickens. Clean Energy had previously announced a similar type of deal to put natural gas filling stations at hundreds of Pilot/Flying J truck stops.

Clean Energy has said will add some 70 on the road stations this year, and another 80 stations will be developed in 2013. This will in most cases allow natural gas trucks to go "coast to coast and border to border," Clean Energy executive Jim Harger told TheGreenSupplyChain .com earlier this year. In general, a station will eventually be available every 250-300 miles. See Continued Progress in Natural Gas Powered Trucks, Clean Energy Fuels Exec Says.

The move by Shell can in part be seen as a "land grab" of sorts, securing a natural distribution outlet for natural gas for trucking before someone else got there first, especially given Clean Energy's deal with Pilot/Flying J.
It can also be seen as a move to goose the transition to natural gas trucks, which right now have a strong ROI given the current low prices for natural gas and declining premiums for engines that run on the fuel versus diesel (currently about $30,000).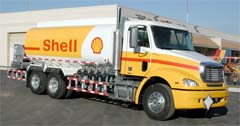 When shippers, carriers or others consider moving to natural gas trucks, they need to be able to "fill up" where and when needed. That is a fairly easy problem for some types of companies, such as sanitation or local delivery operations, where the fleet is never far from a home base where companies such as Clean Energy and others can install private nat gas filling stations.
But for many common carriers and shippers with private fleets, there is a bit of a "chicken and egg" situation, with those companies interested in natural gas trucks but only if the on the road filling infrastructure is there to support it; meanwhile, the filling operations need to demand to build the infrastructure.
But with the Shell commitment now added to what Clean Fuels is doing, the filling infrastructure at least along interstate highways should be substantial at the end of the next couple of years.
Caterpillar Makes Big Natural Gas Commitment

Meanwhile, moving equipment giant Caterpillar announced last week that it had entered into an agreement with Westport, a leading in natural gas engines for the trucking industry, to co-develop natural gas technology for engines for Caterpillar's line of equipment.
Under the deal, Caterpillar will help fund the R&D needed to develop the engines. Commercial production is expected to start within the next five years, Caterpillar said.
The agreement will initially focus on developing a natural gas fuel system using Westport's High Pressure Direct Injection technology for Caterpillar's mining trucks and locomotives engines. The companies will also develop a similar technology for Caterpillar's off-road engines used in a variety of applications such as industrial, marine and petroleum drilling, among others.

Regulatory emissions standards of the U.S. Environmental Protection Agency and similar standards in other developed economies have forced the industrial companies, including Caterpillar, to invest heavily in R&D aimed at reducing air emissions.
The agreement with Westport will go a long way in addressing these regulatory concerns and also provide Caterpillar a competitive advantage, particularly in the U.S. and European Union markets, in connection with emissions standards compliance.
Do you get a sense from these announcements that the natural gas engine thing is really going to happen? What are the stumbling blocks? Let us know your thoughts at the Feedback button below.


TheGreenSupplyChain.com is now Twittering! Follow us at www.twitter.com/greenscm