---
The Green Supply
Chain Says:

Employment attributed to upstream unconventional oil and natural gas activity will support more than 1.7 million jobs in 2012, growing to some 2.5 million jobs in 2015, 3 million jobs in 2020, and 3.5 million jobs in 2035.




Click Here to Send Us Your Comments
A new report from research firm IHS and well-known energy sector expert Daniel Yergin paints a very bright energy future for the United States that will drive economic growth and create millions of jobs - but that vision is at some level contradictory with concerns about greenhouse gas emissions and global warming.
The report, titled America's New Energy Future: The Unconventional Oil and Gas Revolution and the US Economy, written by Yergin and others on the IHS team, says up front that changes on the energy supply side, notably "fracking" and other newer technologies, is already transforming the US economy and energy position. The report can be found here.
"Unconventional oil and natural gas activity is already revolutionizing America's energy future and bringing enormous benefits to its economy," the report saysd. "Unlocking unconventional energy will generate millions of jobs and billions in government receipts. It will make significant contributions to the US economy through direct employment, its many and diverse connections with supplier industries, the amount of spending this direct and indirect activity supports throughout the economy, and the revenues that flow to federal and state and local governments."

This view of things is very consistent with the views legendary energy investor and executive Boone Pickens, who at the recent CSCMP conference in Atlanta a few weeks ago said that America's energy future was "very bright," so much so that the country was in the best total energy position of any country on the globe, a position that it would increasingly be able to leverage for competitive advantage in manufacturing and exports.

The economics numbers flowing from this "revolution" are staggering, according to IHS. It expects that more than $5.1 trillion in capital expenditures will take place between 2012 and 2035 in the US across unconventional oil and natural gas activity, of which:
• Over $2.1 trillion in capital expenditures will take place between 2012 and 2035 in unconventional oil activity.
• Close to $3.0 trillion in capital expenditures will take place between 2012 and 2035 in unconventional natural gas activity.

In addition:
• Employment attributed to upstream unconventional oil and natural gas activity will support more than 1.7 million jobs in 2012, growing to some 2.5 million jobs in 2015, 3 million jobs in 2020, and 3.5 million jobs in 2035.
• On average, direct employment will represent about 20% of all jobs resulting from unconventional oil and natural gas activity, with the balance contributed by indirect and induced employment.
• In 2012, unconventional oil and natural gas activity will contribute nearly $62 billion in federal, state and local tax receipts. By 2020, total government revenues will grow to just over $111 billion. On a cumulative basis, unconventional oil and natural gas activity will generate more than $2.5 trillion in tax revenues between 2012 and 2035.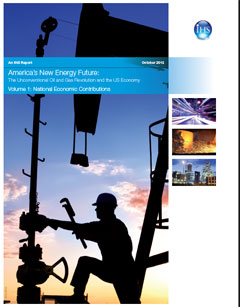 In a related op-ed column in the Wall Street Journal this week Yergin adds that "Domestically, growing natural gas supplies provide a foundation for a manufacturing renaissance, at least for industries for which energy is an important feedstock or where energy costs are significant. Chemical companies have been leaving the US for years in the search for lower-cost countries in which to operate. Now they are planning to invest billions of dollars in new factories in this country because of inexpensive and relatively stable natural gas prices."

He adds that the state of the current US economy would actually be much worse if not for this explosion in these energy projects.

This is all very excting stuff, and will further aid the US economy, as it already has, by reducing our level of imports in natural gas and especially oil from other countries. Each dollar in import reduction is a dollar added to US GDP.

"The increase in domestic oil production over the past five years will reduce our oil-import bill this year by about $75 billion," Yergin says. "The growth of shale gas will save the U.S. from spending $100 billion a year on imported LNG, which was the likely prospect five years ago."

This to many will be great news. But the reality is that this revolution and related opportunity by definition means that these fossil fuels must be well utilized for the opportunity to be realized.

While expanded use of natural gas in trucks and cars can substantially reduce carbon emissions versus diesel/gasoline (about a 30% reduction) and even more versus coal to power electricity plants or factories, it is hardly carbon free. It could be very effectively argued that in fact exploitation of these vast resources in any meaningful way that delivers the kind of benefits IHS foresees is simply inconsistent with various goals for reducing carbon emissions.
We'll take a more in-depth look at the report and this critical issue soon, but it seems clear we are on a collision path here between US economic growth and greenhouse gas reduction.

Do you also see a huge conflict brewing between this US energy revolution and greenhouse gas emission concerns? Which side will prevail? Let us know your thoughts at the Feedback button below.