---
The Green Supply
Chain Says:

BNFS says it hopes to have its pilot trains on the rails by sometime this fall. Despite all those obstacles, if the tests are successful, the railroad could begin the conversion process in about just one year.




Click Here to Send Us Your Comments
Clearly if slowly, the move towards broad use of natural gas powered trucks that promise lower operating costs, reduced greenhouse gas emissions, and more US energy self-sufficiency moves forward.

Though not without some self-interest, legendary energy investor and entrepreneur Boone Pickens told SCDigest editor Dan Gilmore at last October's annual CSCMP conference in Atlanta that he was confident natural gas trucks would be prevalent in at most 7 to 8 years, and just 3 to 4 years if the US government ever passes legislation that provides financing for the switch (loans that would have to be paid back). See T. Boone Pickens on the Present and Future of Natural Gas Freight Trucks.

Now, is that development likely to migrate to locomotives as well?
BNFS Railway, the rail carrier acquired by Warren Buffet's Berkshire Hathaway in 2009, says it will start testing natural gas powered engines sometime this year, likely using a blend of natural gas and diesel to start.
"This could be a transformational event for our railroad," BNSF Chief Executive Matt Rose told the Wall Street Journal, which broke the story, saying the shift away from diesel, if it occurs, "would rank right up there" with the industry's transition away from steam engines to diesel starting in the 1950s. That time, we'll note, it took almost two decades for the transformation to be complete.
After that BNSF news, it was reported that Union Pacific and Norfolk Southern are working with engine makers to develop natural gas locomotives, Canadian National has already started a small pilot, and CSX is studying the opportunity closely.
Even though railroads are much more energy efficient per freight mile than over the road trucking, they are still huge consumers of diesel fuel. BNSF, the largest of the five major Class I US railroads, believes it is the second largest user of diesel fuel in the country - behind only the US Navy.
The drivers of a potential switch are both monetary and likely environmental. New fracking procedures have unlocked huge supplies of natural gas, driving prices down to historic lows that are likely to be favorable versus diesel cost equivalents for many years, even if natural gas prices eventually do rise.
US railroads used about 3.1 billion gallons of diesel in 2012, according to the US Energy Information Administration. That makes diesel costs second only to employee in terms of total railroad expenses. Using an average price for example of $3.50 per gallon, that would be annual spend of $10.8 billion on diesel.

Estimates are that liquid natural gas energy could be had for about $2.10 per diesel gallon equivalent in high volumes, or savings of more than $1.00 per gallon - about a 33% reduction in fuel costs.

Additionally, there are looming federal air-pollution standards for locomotives that take effect in two years. Even a partial conversion could help engine makers and railroads meet those targets more easily without installing expensive emission control systems

Path to Nat Gas Trains far from Easy

The path to such a conversion will not be easy. For example, railroads would need to get approval from the Surface Transportation Board and perhaps others for the move, with concerns about safety of fast moving trains carrying the new and more explosive fuel rather than diesel.
Using natural gas also will require revamped fuel depots, new tanker cars to carry the fuel (which would probably be in liquid natural gas (LNG) form), new training for depot workers, and - in a activity not well known - new processes for refueling trains mid-stream, which occurs now with diesel on many long haul trips. Whether use of natural gas would eliminate the need for those refueling stops (fed from trucks that meet the train along the way) is not clear.

Also, the railroads would not be involved in getting the natural gas to those fueling depots. Some other parties would have to play a role in delivering that infrastructure and service.

Then of course there would be the cost of retrofitting the locomotives themselves and adding a tanker car for the gas. That initially could cost upwards of $1 million each, it is estimated, though that could fall over time.

BNFS says it hopes to have its pilot trains on the rails by sometime this fall. Despite all those obstacles, if the tests are successful, the railroad could begin the conversion process in about just one year, the company again told the Wall Street Journal. BNSF has about 6900 locomotives in its fleet.

The company says it is working with both GE and Caterpillar on development of new locomotives and conversion technology for existing engines.


Other Railroads Also Pursuing Nat Gas Future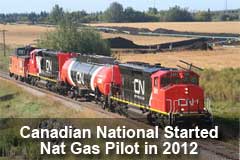 It turns out the Canadian National Railway has already piloted the approach by converting two locomotives to run on a blend of 90% LNG and 10% diesel last September - and the results thus far are from a slam dunk win. The company says it sees "mechanical and fuel logistics challenges" with widespread conversion and that it was too early to determine if the pilot program was successful.

"Union Pacific is exploring the potential to use LNG, but it's still very much in the early analysis phase," Tom Lange, a spokesman for the carrier, said last week. "We are working closely with locomotive and engine manufacturers, cryogenic fuel-tank suppliers and natural gas/LNG suppliers to complete our analysis."
CSX says it is "open to this technology and believe it is potentially viable but there's still a lot of work to be done," Kristin Seay, a company spokeswoman, said in an e-mail to Bloomberg last week.

Norfolk Southern is working with locomotive manufacturers and studying compressed natural gas-powered engines in addition to LNG, said Robin Chapman, a company spokesman.

Another interesting thing for many shippers is that conversions to natural gas by either the trucking or rail industry would immensely help them reduce CO2 emissions in their extended supply chains, as natural gas creates about 20-30% fewer emissions per mile travelled, according to various estimates. (See Position Paper: Natural Gas and CO2.)
Any you bullish on the potential for natural as locomotives? Let us know your thoughts at the Feedback button below.