---
The Green Supply
Chain Says:

Ford hopes to keep the costs low by using Ford employees to collect some 2 million plastic bottles to serve as the feedstock for the REPREVE recycled yarn.




Click Here to Send Us Your Comments
Ford Motor Co. has certainly been a leader in green supply chain, and its use of recycled materials for its car interiors being a prime but certainly not only example. Ford, in fact, has a very aggressive program for pushing its extended supply chain to be more Green. (See Ford Details Approach to Supplier Engagement and Sustainability.)
This week, Ford announced that the new Ford Fusion will be the first vehicle to be sold around the world to use recycled fabrics for its seats. The new Fusion already uses recycled materials in North America, just recently went to market in China, and will soon be launched in Europe (as the Ford Mondeo in both Asia and Europe).

When that rollout is complete, Ford says the mandate to its suppliers should generate as much as 1.5 million yards of fabric per year, and each vehicle may have recycled plastic from the equivalent of 40 or more recycled plastic bottles.
The program started in 2008 with the upholstery in the Ford Escape hybrid. At the time, Ford had to go outside the auto industry to find a textile manufacturer capable of producing recycled fabric. Today, it is a condition for doing business with the Ford. The auto giant now requires suppliers of any new seat to use at least 25% recycled fabric.

According to the Stanford University Recycling Center, recycling one ton of plastic saves the equivalent of 5,774 kilowatt-hours of electric energy. Recycling obviously also means a significant reduction in landfill waste, as waste materials are instead turned into fabric.

The fabric of the 2013 Fusion hybrid is made entirely of recycled materials. "Ford Fusion is the first global vehicle program from any automaker to use seat fabric made from recycled material, with the potential to recycle enough plastic bottles and post-industrial waste to make 1.5 million yards of fabric annually," Ford said in a statement Tuesday. "That's equivalent to between 800,000 and 900,000 yards in North America alone when Fusion is in full production."

Other recycled items in the 2013 Fusion include soy-based foam in seat cushions, plastic underbody panels made from recycled car battery casings, and sound-absorption materials made from old denim.

As with everything these days, the supply chain for the Green seats at Ford is complex.

A company call Unifi developed its own brand of yarn made from recycled materials called REPREVE, which was used primarily by apparel manufacturers. The fabric is made essentially by chopping, grinding and then melting PET plastic bottles and pouring the liquid through tiny holes that become yarn-like strings (filaments) when cooled. (See graphic below.)
Many Steps to Making a Car Seat Using Recycled Materials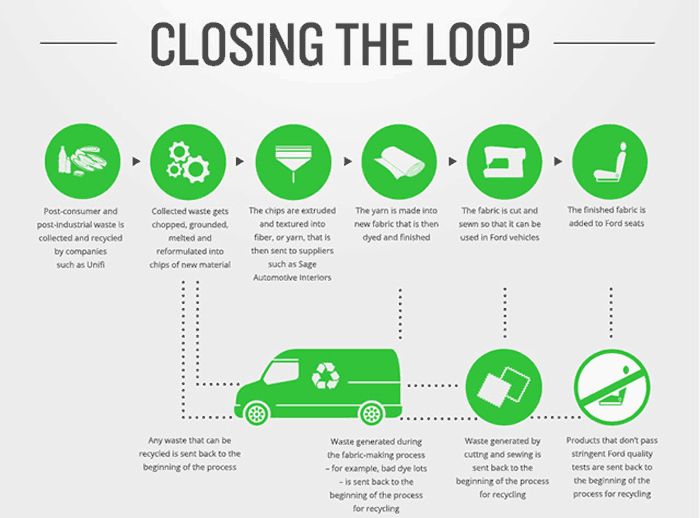 To make Ford seats, Unifi provides REPREVE yarn to South Carolina-based Sage Automotive Interiors, which uses the material to weave the fabric that is then shipped to tier 1 Ford supplier Lear, which assembles the seats and delivers them to Ford. Any manufacturing waste, such as trimmings or bad dye lots, goes back to Unifi for reprocessing.

Ford hopes to keep the costs low by using Ford employees to collect some 2 million plastic bottles to serve as the feedstock for the REPREVE recycled yarn.

Ford now has four global suppliers of recycled fabric. Overall, Ford uses 41 recycled fabrics across 15 vehicle lines globally – from Mustang and Fiesta to F-150 and Taurus, with clear plans to increase those totals.

Showing real commitment to suppliers relative to recycled materials was key, a Ford manager said.

"Initially suppliers didn't think we were serious when we told them that our new corporate strategy required a minimum of 25% recycled content," said Carol Kordich, Ford's lead designer of sustainable materials. "But more and more suppliers started to increase their environmental R&D efforts."

Currently, the amount of recycled material in each vehicle varies depending on region.

In North America, 100% of the seat fabric in Fusion Hybrid contains recycled material. The Mondeo in Ford's Asia Pacific and European regions has 43% recycled content.

What is your take on Ford's use of fabrics made from recycled materials? Let us know your thoughts at the Feedback button below.