---
The Green Supply
Chain Says:

So PPG is operating in a green virtuous cycle right now, as success with environmentally-friendly products and buildings creates interest from others and builds demand.




Click Here to Send Us Your Comments
While so-called Green products have been slow to catch on in the consumer products world, for many industrial companies they represent a growing share of overall sales in B2B markets.

That's certainly the case PPG, the chemicals, glass and paint company headquartered in Pittsburg.
PPG has been focused on Sustainability for years, and in fact says Sustainability has actually been embedded in its culture for its entire 130 year existence.

Last year, the company set a number of Sustainability goals to achieve between 2012 and 2020. Those include:

• Reduce spills and releases 10% per year

• Reduce hazardous waste to landfill by 20% by 2020

• Reduce non-hazardous waste to landfill by 10% by 2020

• Reduce energy intensity 1.5% per year

• Reduce greenhouse gas emission intensity 1.5% per year

• Achieve 30% of sales from sustainable products by 2020

To manage these goals, PPG uses its own Environmental, Health and Safety (EHS) Management System, a global tool that ensures consistent presentation and execution of EHS goals and strategies across all its businesses worldwide.

The last of those goals is an interesting one, and in fact PPG is already almost two-thirds of the way to hitting that target.
In 2012, the company's sales of green products were $3.05 billion, approximately 20% of total revenue. PPG has a number of attributes for what defines an environmental product, and includes products that reduce a customer's energy consumption, reduce the amount of resources required in manufacturing, or provide an extended life product.

Much of that success is selling low-energy glass products to companies constructing LEED-certified buildings - a segment that is likely to continue to grow.

Glenn Miner, PPG's director of construction, told the Pittsburgh Business Times this week that "We try to make it a holistic approach to Sustainability. It's something that starts at the top in terms of both the way the business is run and the products we make."

PPG, Miner said, simply has a culture that drives employees to constantly look at how it can make products more energy efficient and less harmful to the environment.

For example, PPG was one of the first to install oxygen-fuel furnace technology on a float glass production line, a move it made several years ago and which reduced fuel consumption by 15%, carbon dioxide emissions by 10% and emissions of nitrogen oxides by about 50%.

PPG then leveraged that success by licensing this technology to other glass manufacturers.
PPG Has Reduced its Energy Intensity per Ton of Output by 6% Since 2006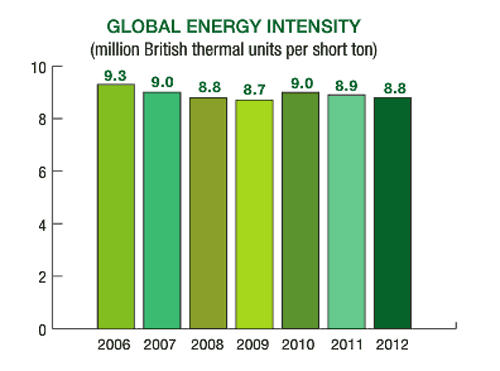 The company has won a number of awards for the environmental friendliness of its products, such as the Cradle to Cradle Silver Certification for its entire line of architectural glass. That kind of recognition obviously has marketing value that can pump up sales and revenue.

In terms of green products, the company says the all of the glass in its Solarban line of windows reflects or blocks up to 99% of infrared light and ultraviolet light while transmitting the maximum amount of visible light, which can increase energy savings by 20-30%.

So PPG is operating in a green virtuous cycle right now, as success with environmentally-friendly products and buildings creates interest from others and builds demand.

"There's a push for sustainable products, which is good for PPG because it's not only generating sales for the products we have today, it is pushing us to be innovative and look to develop the type of products we are going to need in the future," Miner said.


Are Green Products Selling Well in Industrial Markets? Let us know your thoughts at the Feedback button below.