---
The Green Supply
Chain Says:

As usual, Apple lays it all out, reporting the details of how compliant suppliers in its extended network are with its code, based on the audit data.




Click Here to Send Us Your Comments
Several years ago, consumer electronics giant Apple created something of an inflection point in the industry when it released a Supply Responsibility report that included detailed audit data of its supplier network.
That report was noteworthy because as opposed to most such reports, it laid bare the negatives as well as the positives, an approach that came after a series of negative media reports about treatment of thousands of workers in Apple's extended supply chain in Asia, including a large number of suicides at a giant factory in China of its major contract manufacturer Foxconn.
Apple is back with its report for 2014, and it is again worth summarizing, not only for the view of what is happening in terms of improvements at Apple suppliers but also to consider what and how Apple reports the data, which may serve as a model for other companies.
"We audit deep into our supply chain and hold our suppliers accountable to some of the industry's strictest standards," the Apple report says. "In fact, we care as much about how our products are made as we do about how they're designed."
The core basis of the supplier audits is Apple's Supplier Code of Conduct, a document that includes more than 100 specific areas of standards. In addition, Apple says it evaluates "the strength of the underlying management systems and identify areas for improvement. Management systems include policies and procedures, clear roles and responsibilities, and training programs for workers, line supervisors, and managers."

Apple said it strengthened its supplier code in 2013, and publicly released its Supplier Responsibility Standards - a document with more than 100 pages outlining Apple's detailed expectations on labor and human rights, ethics, health and safety, and environment.
The number of supplier audits - performed by Apple or organizations Apple contracts with – continues to grow each year. The company says 451 audits were conducted at multiple levels of its supply chain – meaning Apple is not just looking at tier 1 suppliers such as Foxconn, but Foxconn's suppliers and maybe even its suppliers' suppliers This implies Apple has deep visibility into it extended supply chain relationships.
Those 451 audits represented a 51% increase from the 298 audits conducted in 2012.
Highlights of Apple's results in 2013 include:

• Started a project to drive accountability for the vocational schools that place student interns in Apple supplier facilities.

• Suppliers achieved an average of 95% compliance with Apple's standard maximum 60-hour work week, based on tracking payroll data for more than 1 million workers weekly in this program.

• Apple verified in January 2014 that all active, identified tantalum smelters in its supply chain were conflict-free (in terms in mineral sources), as confirmed by third-party auditors.

• Apple also released a list of the smelters and refiners it uses whose tin, tantalum, tungsten, and gold, which shows which ones have been verified as conflict-free and which ones still need independent verification.

• Launched a pilot of a Clean Water Program with 13 supplier sites - which collectively use more than 41 million cubic meters of water per year - with a goal to reuse a significant amount of treated process wastewater and recycle water within the production process.

• Continued to seek out abuses of migrant workers by conducting 33 audits specific to this topic, including 16 factories not previously audited. Apple required certain suppliers to reimburse these foreign contract workers $3.9 million in excessive fees paid to labor brokers, bringing the total reimbursements since 2008 to $16.9 million.

• Apple suppliers have trained more than 3.8 million workers on their labor rights since 2008 - including over 1.5 million in 2013 alone.
With regard to underage labor, Apple says it "audited deeper in our supply chain than ever and conducted 451 audits of supplier facilities that collectively employ nearly 1.4 million workers. Those audits uncovered 23 workers who were underage when hired - significantly fewer than the previous year."
Environmental standards are also part of Apple's code, and the company says that in 2013, it developed more than 520 site profile surveys (focusing on its 200 largest suppliers) to help determine environmental risks, and conducted 62 focused environmental assessments at supplier sites.
Apple works with the non-profit Institute of Public and Environmental Affairs (IPE), which maintains the China Water Pollution Map and other public databases designed to hold corporations in China accountable for environmental violations.
The company says that in 2013, it "searched the database for environmental findings related to our top 200 suppliers (by spend), covering more than 400 locations in China. Through this search, we identified 58 sites with 114 violations. We already knew about some violations and were addressing them, but others were new to us."
As usual, Apple lays it all out, reporting the details of how compliant suppliers in its extended network are with its code, based on the audit data. Here, for example, is data relative to compliance rates in the environmental area.
Apple's 2013 Results for Supplier Environmental Compliance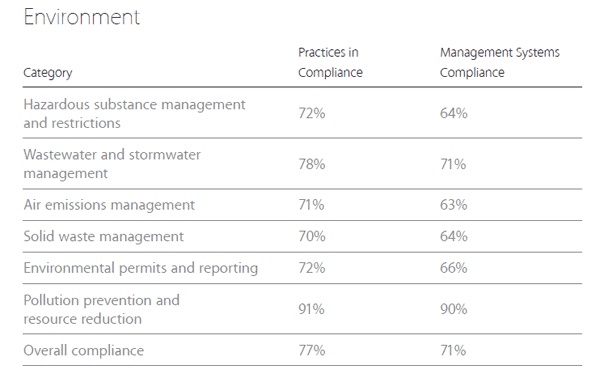 Once again, this is an outstanding job of reporting by Apple, which is really setting the standard in this area. Clearly, the direct and indirect (higher supplier prices) cost of this approach has to be in the hundreds of millions of dollars annually if not more.
Apple is clearly making major gains, and the tone of this report is clearly less "apologetic" that in the past few years – and deservedly so.

Any reaction to Apple's 2014 Supplier Report? Let us know your thoughts at the Feedback button below.