---
The Green Supply
Chain Says:

While P&G condemned the tactics Greenpeace used this week at its headquarters, it took a much softer tone on the Greenpeace report.




Click Here to Send Us Your Comments
The long battle over use and sourcing of palm oil by consumer packaged goods companies continues on, with Greenpeace activists hanging large banners critical of giant Procter & Gamble from the company's iconic "twin towers" in downtown Cincinnati Tuesday.
Nine Greenpeace activists somehow managed to elude security and enter the P&G buildings around midday. They made their way 12 stories up, used plyers to break window locks, and then used existing zip cords set up for building window washers to rappel down the building and unfurled a pair of 60-foot banners. One female member of the group dangled on a zip cord between the towers wearing a tiger suit.
The banners said "Head & Shoulders, Stop Putting Tiger Survival on the Line" and "Head & Shoulders, Wipes out Dandruff & Rainforests."

The activists rolled up the banners by about 2:30 p.m. and were under arrest by 3:15. All nine were charged with burglary and vandalism, trespassing and inducing panic, some of which are felony counts.
There have been battles between environmentalists and consumer products companies for many years over the use of palm oil, estimated to be in more than half of all household consumer products, including food, cosmetics and cleaning items.
Environmentalists say growing need for palm oil is causing producers, primarily in Southeast Asia, to destroy natural forests in favor of palm tree plantations, reducing the natural habitat of tigers, orangutans and other species, in some cases to the point they may face extinction.

Companies such as Unilever and Nestle have in recent years adopted policies that promise only use of "sustainable" palm oil. Procter & Gamble has also promised such efforts, but Greenpeace believes P&G is behind some of its rivals in the effort. For some time, P&G has had a dedicated web page explaining its approach to palm oil sourcing, saying that the company is "committed to the sustainable sourcing of palm oil."
However, "P&G is buying palm oil linked to rainforest destruction, to make everyday products like Head & Shoulders and Oil of Olay," said Joao Talocchi, Greenpeace Palm Oil Campaigner, in a press release. "Rainforest destruction is endangering species like the Sumatran tiger and orangutan. We should be able to wash away dandruff without wiping out tigers."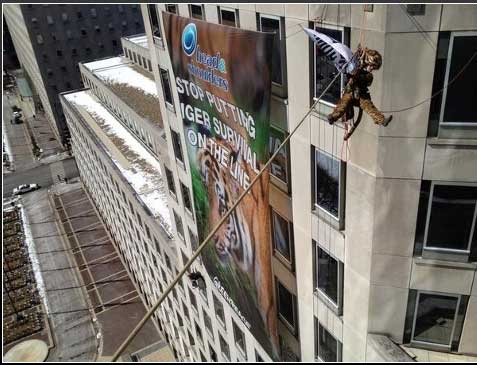 Greenpeace Hung To Giant Banner from P&G's Iconic Twin Towers
Just a week ago, Greenpeace issued a report, based on a year-long investigation, that found some P&G palm oil suppliers in Indonesia have allegedly engaged in destructive deforestation, clearing of endangered animal habitat and potentially illegal forest fires. A Greenpeace executive says the investigation involved a number of its investigators on the ground in Indonesia, taking pictures, talking to employees of palm oil providers, and more.

Greenpeace says that in 2013 P&G bought about 462,000 metric tons of palm oil, including some from some of the world's largest processors. Less than 10% of the palm oil used by the company is certified sustainably sourced, Greenpeace said.

While P&G condemned the tactics Greenpeace used this week at its headquarters, it took a much softer tone on the Greenpeace report.

"We have already begun a full investigation of all claims made in the report," P&G spokeswoman Lisa Popyk said of the allegations.
She added that "P&G is committed to the sustainable sourcing of palm oil. In fact, as part of our sustainability goals, we have committed to 100% sustainable sourcing of palm oil by 2015. We are working with our suppliers to ensure we deliver this commitment."

"The point being missed by most of the media is that if the Greenpeace report is largely correct - and that is an unknown at this point, but their work in other areas like this has been quite good - it means Greenpeace knows more about P&G's palm oil supply chain than the company does," says SCDigest editor Dan Gilmore. "How can that be?"

What's your reaction to this Greenpeace move on P&G? Why is it so hard to get off of traditional palm oil sources? Let us know your thoughts at the Feedback button below.