The world's biggest shipping company wants to slash its carbon emissions to zero by developing a new kind of container ship to move the world's freight across the oceans.

Maersk Line said in early December said it plans to become carbon neutral by 2050. The company is also encouraging other ocean carriers to do the same and also to help it develop the technology for a new generation of vessels.

"This is a call for action," Maersk chief operating officer Soren Toft told CNN's Richard Quest, describing climate change as "one of the most significant issues facing the planet."
The Green Supply Chain Says:
The shipping industry burns huge quantities of heavy fuel oil and is estimated to account for roughly 2% to 3% of global greenhouse gas emissions.

What Do You Say?

Click Here to Send
Send Us Your Comments

Reaching the goal will require more than the efficiency measures Maersk has used so far to reduce its carbon footprint, including slow steaming and other practices. The company said its relative CO2 emissions (i.e., CO2 emissions per container mile) had already been cut by 46% against a 2007 baseline, adding that this was approximately 9% more than the industry average
Maersk looks to technological innovations to make carbon neutral ships commercially available by 2030 in order for it to meet its 2050 goal.
"The only possible way to achieve the so-much-needed de-carbonization in our industry is by fully transforming to new carbon neutral fuels and supply chains," Toft said in a press release.
The Paris Climate Accord excluded pollution from international shipping and aviation in its goal setting on climate change. Because shippers cross multiple jurisdictions in the course of each trip, they were left to police themselves rather than being addressed as part of individual country plans to reduce CO2.
"The next five-10 years are going to be crucial," Toft added. "We will invest significant resources for innovation and fleet technology to improve the technical and financial viability of decarbonized solutions. Over the last four years, we have invested around $1 billion and engaged 50-plus engineers each year in developing and deploying energy efficient solutions. Going forward, we cannot do this alone."


The shipping industry burns huge quantities of heavy fuel oil and is estimated to account for roughly 2% to 3% of global greenhouse gas emissions, according to the International Maritime Organization (IMO).

That compares to roughly 3% generated by international aviation and 11% by agriculture, according to 2014 data from the European Environment Agency. In April, the IMO pledged to reduce the industry's annual emissions by at least half by 2050.
But Maersk is pushing for it to go much further.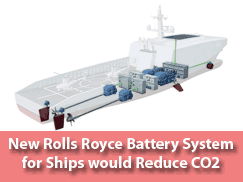 For example, British engine maker Rolls Royce said in August that it had developed a lithium-ion battery system for ships that would help reduce emissions.
But Maersk's giant cargo vessels, which carry thousands of containers over thousands of miles of open ocean, will need entirely new technology in order to meaningfully cut carbon emissions or eliminate them entirely.

Another possibility: Finnish shipping business Viking Line's M/S Viking Grace makes use of a 24-meter-tall cylindrical rotor sail developed by Norsepower Oy, another Finnish company.
The sail uses something called the "Magnus effect" for propulsion. As the rotor spins, passing air flows with a lower pressure on one side compared to the other, driving the ship forward.
Maersk says it plans to start a dialogue next year with "all possible parties" - including cargo owners, investors, lawmakers and technology developers - to start working on the challenge.

What did you find interesting about Maersk Line Pledging Carbon-Neutral Ships by 2050? Let us know your thoughts at the Feedback button below.