TheGreenSupplyChain.com has been reporting for a number of year on machines that dynamically create cartons on-demand to reduce shipping costs and waste.
The potential benefits are accelerating of course with the tremendous growth of ecommerce, with the number of cartons needed for shipping growing along with ecommerce at about 15% year-over-year, quarter after quarter.
Amazon has come under quite a bit of scrutiny over the past few years for the amount of waste it is creating with its massive growth in cartons shipped. SCDigest recently reported that Amazon has been testing a system from Italian automation company CMC Srl that would significantly reduce the number of human packers needed in a fulfillment center.
A side benefit is that part of the process involves the CMC Carton Wrap machine that construct a carton the precise size of the items going in it. (See Amazon Betting Big on Automating the Packing Process.)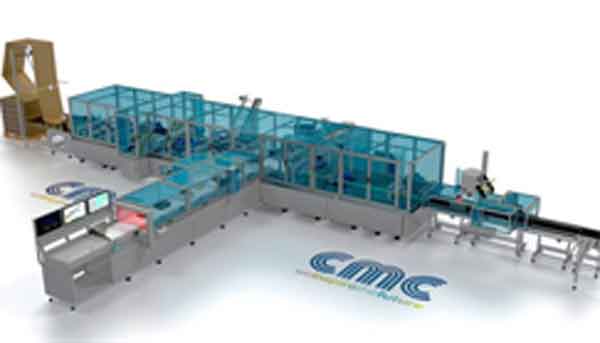 Now, a report from the Minneapolis Star-Tribune (Jackie Crosby) that says Amazon rival Best Buy has implemented similar technologies in three of its own distribution centers, with additional deployments planned.
At a distribution center in Compton, CA, Best Buy also uses a machine from CMC to build custom-sized cartons. The machine can create up to 15 boxes per minute, and can accommodate boxes up to 31 inches wide.

"Most people are shipping 40% air," Rob Bass, head of Best Buy's supply chain operations, told the Star Tribune. "It's horrible for the environment, it fills up trucks and airplanes in useless fashion. With this, we have zero wasted space; no air pillows."
Shutterfly is among other companies using CMC's technology. There are other providers, such as BoxMat and several more, of systems that produce custom size boxes, but with less full packing automation than the CMC system.
In the Best Buy system, sensors are used to calculate the size of incoming picked orders travelling on a conveyor. The machine precisely cuts corrugate to match the items going into the carton. It then inserts a packing slip before sealing the carton and applying a shipping label, after which the carton is moved to the shipping area.
The process minimizes the amount of corrugate used, and eliminates the need for bubble wrap or other packing material because the tightly wrapped orders cannot shift inside the box.
The process also reduces shipping costs in two ways, first by reducing the size of the shipping carton in an era of "dimensional weighing" by major parcel carriers, and then by allowing Best Buy or parcel carriers trucks to move with more cartons inside the trailer than with less optimized box sizes.
"There are times you have a box that's 10 times the size of actual product. Now we no longer have that," Jordan Lewis, director of the Best Buy Compton DC, said recently during a facility tour.
Best Buy says the system has reduced cardboard waste by 40% and freed up floor space and manpower for better uses.
While cost reduction is the big driver of this interest, the Green angle is also key for many companies. That's in part because the recycling infrastructure for corrugate is straining under the huge and rapidly growing volume of cartons, especially since China has stopped taking most foreign paper products for recycling. (See The Recycling Sector Is Broken.)
All that means more and more corrugate cartons are finding their way into landfills.
The Star Tribune reports that a California company called LimeLoop has developed a reusable plastic shipping package, but it has yet to gain much traction and such an approach would involve a number of major process issues.
Unfortunately, many retailers can't afford the $1 million dollars or so it takes to buy a CMC machine. The CMC system also requires an expensive on-site technician to troubleshoot operational problems.
So this is an issue that is likely going to continue to grow, with likely an increasing interest in carton size optimizing technology.
What do you think of these carton making machines? Let us know your thoughts at the Feedback button below.