---
The Green Supply
Chain Says:

No action was taken by Amazon against employees involved in the defeated climate resolution, nor does it seem against last week's protestors."




Click Here to Send Us Your Comments
Amazon, long criticized by environmental groups due to its perceived lack of focus on sustainability, in February tried to counter that image when it announced new goal new that 50% percent of its ecommerce shipments would become carbon neutral by 2030.

That new was part of an ambitious new "Shipment Zero" initiative Also included then was an update on its previously announced long-term goal of using 100% renewable energy for all Amazon infrastructure globally, saying it was making "solid progress" towards this target, without giving more detail.
Last week, Amazon and CEO Jeff Bezos further expanded on these plans, announcing a sweeping new plan to address climate change. That includes calls for companies to help meet Paris climate agreement goals 10 years ahead of schedule.

That as part of what Amazon terms the "Climate Pledge," which includes a commitment by Amazon to measure and report the company's CO2 emissions on a regular basis, implementation of decarbonization strategies, and adjustment of its business strategies to offset any remaining emission it produces.
Amazon plans to use renewable sources for 80% of its own energy needs by 2024, up from about 40% currently, with plans for zero emissions by 2030.

"We want to use our scale and our scope to lead the way," Bezos said at a press conference National Press Club in Washington, DC, adding that "One of the things we know about Amazon as a role model for this is that it's a difficult challenge for us because we have deep, large physical infrastructure. So, if we can do this, anyone can do this."
Bezos called upon other companies to join Amazon in committing to have net zero carbon emissions by 2040, tens years ahead of the Paris UN Accord's timetable.


Amazon also said it has agreed to purchase 100,000 electric delivery vans from vehicle manufacturer Rivian - a company in which Amazon has invested $440 million.
Amazon said it will begin deploying electric vans in 2021, with an estimate of 100,000 vehicles on the road by 2024.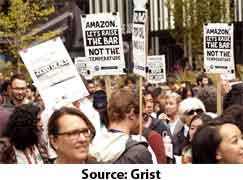 All that was not enough for thousands of Amazon workers. In perhaps the most prominent example seen yet of how management-worker dynamics are changing, on Friday, the day after Amazon's press conference, an estimated 3000 Amazon white collar workers protested their own employer outside the company's Seattle headquarters.
"It's been super exciting," said Cat Han, a 30-year-old Amazon software engineer and one of the main organizers of the climate efforts taking place internally at the company.
The protest was organized by an internal group called Amazon Employees for Climate Justice. Earlier this summer, more than 7,500 employees backed a climate change resolution that called on the tech giant to adopt an aggressive climate plan. Shareholders voted the resolution down.
The Amazon protestors held signs with slogans such as "Break free from fossil fuels" and "Great start, Jeff."
Han believes Amazon's new climate plan is a move in the right direction, but she wants to see company leadership take much stronger action to address climate change. "Getting to the Paris Agreement 10 years ahead of time will not put us on the right track to a livable world," she said. "We're not doing enough. The climate plan needs to be more comprehensive."
No action was taken by Amazon against employees involved in the defeated climate resolution, nor does it seem against last week's protestors.

Do you have any thoughts to add on Amazons Environmental Plan and Employee Protest? Let us know your thoughts at the Feedback button below.