---
The Green Supply
Chain Says:

Food companies like Nestle face the fact that there is almost no existing market for recycling the material often used in food packaging.




Click Here to Send Us Your Comments
Recently, the GreenSupplyChain,com wrote about iconic toy maker Lego's challenging quest to find a non-oil based material to make its famous plastic blocks (see Lego Continues to Pursue Eco Friendly Materials for Its Iconic Toy Bricks.)
Fellow Scandinavian company Nestle, the world's largest packaged food manufacturer, is finding different but at the same time similar challenges in removing plastics from its product packaging and supply chain.
Even as many leading consumer packaged goods companies pledge to reduce their use of plastics, it is an especially tough goal to achieve for food makers, which must use premium materials that are safe for direct contact with food, beyond what might be used say to package laundry detergent.
And, the Wall Street Journal reports, recycling the packaging typically used for food products is difficult and expensive because it is often made from multiple types of material, like plastic blended with aluminum or paper.
Other food companies, especially in the produce area, use plastic film to wrap some items, or thin plastic bags for loose items, both of which often can't be recycled.
The Journal says that even when plastic is technically recyclable, it often is not collected and recycled because there has been little demand for recycled plastic.

Now, Nestle has announced it will spend more than 1.5 billion francs (also about $1.5 billion US dollars) on recycled plastics that are approved for contact with food. It also will invest another 250 million francs in startups researching new materials, refill systems and recycling technologies, funding the investment by reducing costs in other areas of the business.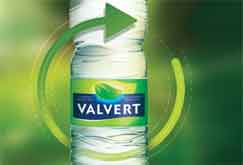 As part of its announcement, Nestle said it has set a goal of reducing the 1.67 million metric tons of fossil-fuel-based plastic it used in 2018 by 33%. Currently, just 2% of Nestle's plastic packaging by weight is currently made from recycled material.
"Making recycled plastics safe for food is an enormous challenge for our industry," said Mark Schneider, CEO. "That is why in addition to minimizing plastics use and collecting waste, we want to close the loop and make more plastics infinitely recyclable."

The Journal story reports that Nestle is moving away from plastic to paper-based packaging on some of its products, like Nesquik powder and Munch chocolate bars, but so far such efforts have been limited to a few special areas and even then have only delivered mixed results.
Food companies like Nestle face the fact that there is almost no existing market for recycling the material often used in food packaging, which is difficult to process.

In response, India has passed a law that forces consumer goods companies to pay for collecting plastic trash, which is used to build roads or burned for energy.

The Journal notes that other food companies are setting goals similar to Nestle.

Unilever, for example, announced last year that it would reduce its use of plastics made from fossil fuels by 50% by 2025, saying much of that drop would come from an absolute reduction in plastic by switching to refillables, smaller containers or not using any packaging at all.

Mars and PepsiCo have also announced similar targets.


Any reaction to Nestle's program to reduce and recycle plastics? Let us know your thoughts at the Feedback section below.