---
The Green Supply
Chain Says:

But customers for now seem to place much more value on fast shipping versus environmentally friendly deliveries.




Click Here to Send Us Your Comments
Amazon is under a microscope on a number of fronts, including how it allegedly treats fulfillment center workers and claims of various monopolistic practices as its size and clout continue to rise unabated.
But there has also been a growing chorus of criticism of Amazon's Sustainability practices, even as the company tried to dampen the critiques through a series of announcements in 2019.
That news included a public commitment last September to have net zero carbon emissions by 2040 and use 100% renewable energy by 2030.
Amazon's supporting initiatives include an order for 100,000 all-electric delivery vehicles from Rivian that will start being on the road in 2021, and a new sustainability reporting initiative that will monitor and track the company's progress toward its sustainability goals.
But all that and more is not fast enough for many – including some Amazon employees.
About a week ago, Amazon Employees for Climate Justice, an advocacy group of workers concerned about the company's carbon footprint, published quotes from more than 350 Amazon employees signed with their names and job titles.
That move was in defiance of company rules, which prohibit workers from commenting publicly on business without corporate justification or approval from management.
"Amazon's role in the climate crisis is staggering and alarming," Scott Ogle, a queue management analyst, wrote on the blog. "While the company has publicly announced measures to reduce emissions and impacts in the coming years, it does not add up with its ongoing support to oil and gas industries and its efforts to silence employees who speak out. I stand with fellow employees who prioritize sustainability over profits."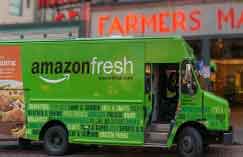 Would Consumers Give Up Fast Shipping?
Of course, driving Amazon's massive revenue growth is its relentless pursuit of ever faster shipping. Last April, for example, Amazon announced new free one day shipping for its Prime members, down from two days previously. Now Amazon is also offering free same day shipping for groceries in some markets.
At the current moment, CO2 emissions do not seem a high priority at the on-line giant.
For example, Amazon continues to build out its air network to support fast shipping, breaking ground last year on a large new air cargo hub at the Cincinnati airport.
Reaching zero emissions will be hard with all those airplane flying parcels.
"We would need to have no-emission flights, which is not going to be something that happens in the short term," Elizabeth Jardim, senior corporate campaigner for Greenpeace, told DigitalTrends.com. "They would have to rearrange or change expectations around how Prime works, and consolidate shipping."
"We're hearing there's a lot of interest in expanding air freight and using air freights to ship products around the country, and that has an immense impact on greenhouse gases and localized health," Adrian Martinez, a staff attorney for Earthjustice, also told Digital Trends.
Digital Trends also reports that consolidated shipping is not Amazon's focus. A report done by Buzzfeed showed that massive use of Prime shipping, particularly on "holidays" like Prime Day, actually results in less consolidation and more waste generation.
To reduce Amazon's environmental impact, consumers would need to get used to waiting a few days for deliveries instead of a few hours.
"Slowing it down is the right way to go," Jardim said. "It couldn't fix everything, but it would be helpful.
But customers for now seem to place much more value on fast shipping versus environmentally friendly deliveries.
But it's probably better to focus on getting Amazon to make changes versus depending on consumers to change, says one expert.
"I would caution that it needs to be corporations who take full responsibility, and not push the responsibility onto the customers," Rebecca Deutsch, a Climate Justice Organizer, told Digital Trends. "We have to change the system. We can't change cultural norms until we change the system, and perhaps that includes Amazon not pushing people so much to use the one-day shipping."
Amazon could also do better at making its customers aware of their own individual carbon footprints. "They could tell Prime customers that they could choose a slower delivery option, and the impact that would have," Jardim said.
TheGreenSupplyChain.com would be quite interested in seeing the results – if any – from that change.