---
The Green Supply
Chain Says:

The authors say it is "likely the [climate] situation will continue to deteriorate, possibly more so than in any of the IPCC's scenarios".




Click Here to Send Us Your Comments
JP Morgan, one of Wall Street's premier investment firms, is reportedly ready to take a new, more aggressive approach to climate change – after an internal reports from two of its economists warned of climate change danger and criticized the company's energy investments.
There has long been a connection between financial firms and the climate movement. The UK's Carbon Disclosure Project, which provides tools and a process for companies to publish their own CO2 emissions and those of their suppliers, got its start by soliciting a group of investment firms and banks to state they wanted companies to be more transparent about emissions in the name of understanding their climate risk.
Last week, the UK's Guardian newspaper reported on a research note from Morgan Stanley sent to clients in January that warned about the potential for major climate and business disruptions from rising temperatures.
The JP Morgan report on the economic risks of human-caused global heating said climate policy had to change or else the world faced irreversible consequences. The analysis was written by company economists David Mackie and Jessica Murray.
The Guardian says the analysis implicitly criticizes the firm's own investment strategy and highlights growing concerns among major Wall Street institutions about the financial and reputational risks of continued funding of carbon-intensive industries, such as oil and gas.
JP Morgan has lent or invested some $75 billion to companies since the 2015 Paris Climate accord to companies involved in fracking and oil and gas development in the Arctic, according to analysis compiled for the Guardian last year.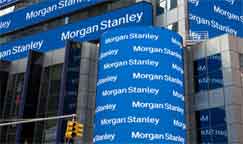 The Morgan Stanley report was obtained by Rupert Read, an Extinction Rebellion spokesperson and philosophy academic at the University of East Anglia, and was reviewed by the Guardian.
The research says the climate crisis will impact the world economy, human health, water stress, migration and the survival of other species on Earth.
"We cannot rule out catastrophic outcomes where human life as we know it is threatened," the Guardian says the study warns.
The report states that global temperatures are on course to hit 3.5C above pre-industrial levels by the end of the century. It says most estimates of the likely economic and health costs are far too small because they fail to account for the loss of wealth, and the possibility of increased natural disasters.

The report argues that policymakers need to change direction because a business-as-usual climate policy "would likely push the earth to a place that we haven't seen for many millions of years", with outcomes that might be impossible to reverse. It adds that "Although precise predictions are not possible, it is clear that the Earth is on an unsustainable trajectory. Something will have to change at some point if the human race is going to survive."
The report further says that climate change "reflects a global market failure in the sense that producers and consumers of CO2 emissions do not pay for the climate damage that results." To reverse this, it highlights the need for a global carbon tax but cautions that it is "not going to happen anytime soon" because of concerns about jobs and competitiveness.
The authors say it is "likely the [climate] situation will continue to deteriorate, possibly more so than in any of the IPCC's scenarios".
And then right on cue, Reuters reports that JPMorgan will announce on February 25 a series of new climate-change initiatives on that will include restrictions on financing coal mining and Arctic drilling, as well as a $200 billion target to provide financing for sustainable projects.
JPMorgan said it will facilitate $200 billion of transactions in 2020 that "support climate action" and advance the United Nations' sustainable development goals.

Reuters says those transactions are expected to be a mix of loans, underwriting, advisory services and investments, and will include $50 billion of financing for green initiatives.


Other big US banks have announced similar programs.
Any reaction to this news from Morgan Stanley? Will investment firms drive climate action? Let us know your thoughts at the feedback button below.